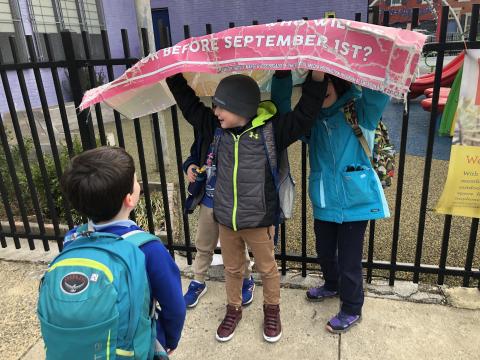 This week we went on a journey back in time, to when we were slaves in Egypt. What was it like being a slave? How did we become free people? Once we got back to present day at Makom Community, we discussed the things that enslave people today, and we explored what freedom means to us. Most importantly, we talked about what our responsibilities as free people are. Read on to see what your wise kiddos had to say.
What are things that enslave us today?
Housework.
Homework.
The never-ending chess game of politics.
Screens because they are distracting.
There are too many options.
Yelly and rude overseers.
Too much sitting.
My classroom my teacher is mean doesn't care what we think.
Yelling.
No mistakes allowed.
Sometimes someone's brain feels like Egypt so they make other people miserable.
What do you associate with the word "freedom"?
Passover.
Kindness.
Friends.
Playing with dolls.
Making your own choices.
The Eagles.
Shabbat and being able to rest.
Love – everyone has a right to be loved!
Happiness, fun, making your own choices.
Hope.
The 76ers.
Openness, having the ability to do different things.
Fun.
People not being slaves.
Eating healthy food.
Having things we want.
Having books and shelves for them.
Having special trips.
Choosing your own job.
Helping to take care of my younger siblings and other little kids.
Myself!
Eating cake!
Disneyland or Hershey Park.
Rides and double food.
Everyone knows how to be peaceful.
People know that violence is bad.
No climate change, war, factories, or pollution.
Advanced but not destructive.
No deforestation.
We are outside all the time.
We get to appreciate earth's wonders.
What are our responsibilities as free people?
Kindness – everyone has a responsibility to be kind to each other.
Passover – you might have a job to do to celebrate the holiday.
Friends – making them and how we treat them.
Help enslaved people by giving them money
Don't litter.
Don't be like pharaoh.
Don't make fun of people who need help.
Redeem the world.
If pharaoh was around today, I would speak up to him.
One of my favorite things about this week was seeing how much gratitude and what a strong sense of freedom these kiddos have. Our list of freedoms goes on and on. Stay tuned next week to hear about our next steps on our adventure to Passover!