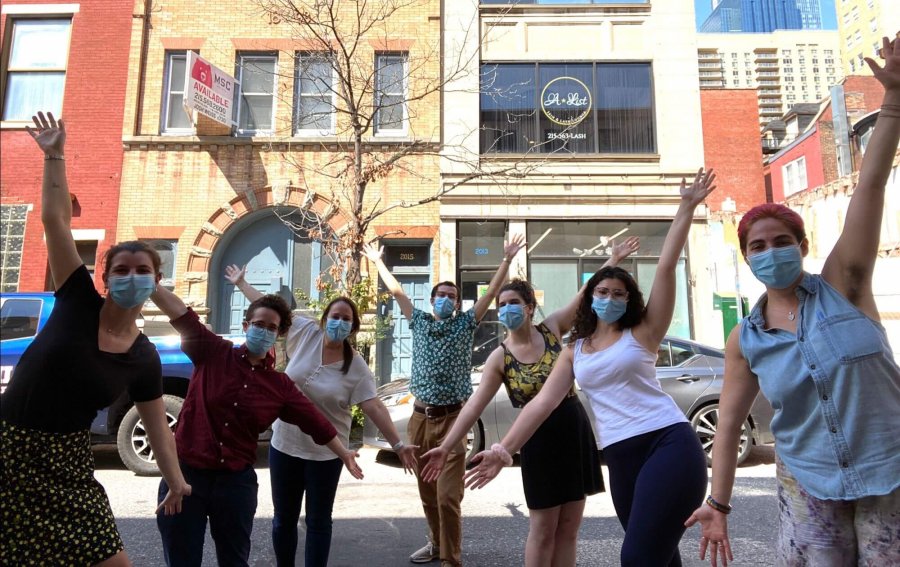 Looking forward to starting off this new school year with you and your families! Have a question? See if you can find the answer here on our FAQ. Otherwise, please feel free to reach out to Amanda or anyone else on the Makom Community team.
What is the timing of the day for Distance Learning Days and Jewish Enrichment? 
We are offering 10:00am-5:30pm coverage for our Distance Learning and Jewish Enrichment students. Students are welcome to get to Makom Community anytime between 10:00-11:00am.
How does that timing work if my child has an 8:30am morning meeting with their teacher?
We are working on setting up a group of rotating parents who can get to Makom Community around 8:15am to help a cohort of kids start their school day at Makom Community.
If you and your child are interested in being part of this cohort, please email Amanda (amanda@makomcommunity.org). If you're interested in coordinating this parent co-op, please also let Amanda know.
What time does Jewish Enrichment begin? 
We are planning for Jewish Enrichment to be from 3:00-5:30pm. Students are welcome to arrive at Makom Community between 3:00-3:30pm.
Can families pick up their kiddos before 5:30pm?
Families are welcome to pick up their children at 5:15pm or 5:30pm. We will ask that your family signs up for one time slot and tries to continue with it for the year. Since drop off and pick up is outside Makom Community this year, picking the same time slot will help make dismissal run smoothly. Of course, if something comes up and you need to get your child at another time, please call us at 484-278-1335.
Do kids have to wear masks?  
Yes! All kids and staff are required to wear masks during the entire day. We take hourly mask breaks. If any child needs a break at another time, they can go outside with a staff member and take off their mask. Before sending your child to Makom Community, make sure that your kiddo has a mask that fits well around their face and covers both their mouth and nose at all times, without them having to adjust it.

NOTE: If your child is not a mask-wearing expert, we encourage you to practice at home. Start with times that your child is really at ease. Many families have good luck practicing while their child is watching TV or otherwise relaxed and distracted. Aim to have at least 30 minutes a day of mask practice in the couple weeks before their return to Makom Community. Please also practice taking off and putting back on masks (like while drinking water or eating a snack).

At home mask practice will also let you, as the parent, check that you have a well-fitting mask for your child. Our faces are so many different shapes, and there are many kinds of masks now available. If you're struggling to find child-sized masks, check out the Southwest Center City Mask Project for free and affordable masks: https://www.facebook.com/groups/swccmaskproject
How many masks do you recommend I send my child with? 
We recommend at least 2 backup masks in addition to the mask they wear at arrival.
What happens during meal and snack times? 
We are doing our best to eat meals and snacks outdoors while sitting with the same people at our indoor tables. If the weather does not allow for outdoor eating, we will have kiddos as far away from each other as possible.

Please pack a lunch for your child if they are here for Distance Learning Days. We will provide a snack during the morning for Distance Learning Kiddos and at least one snack in the afternoon for Jewish Enrichment kids. We recommend sending your child with an additional snack just in case they get hungry!
Snack in the afternoon will be done in a rotation by class, so if your child is just joining us for Jewish Enrichment, please make sure they had a snack before arriving at Makom Community. We will also serve them another snack between 3:00- 4:15pm.
What if my family has traveled out of state?
We want to make sure PA's travel advisory is on your radar. If you travel to any of the states on the advisory list, we would expect your kiddos to quarantine at home for 14 days before returning to in person programming at Makom Community, per the Department of Health's recommendations. You can find the current (but changing) travel advisory from PA here. 
We can't wait to see you soon!