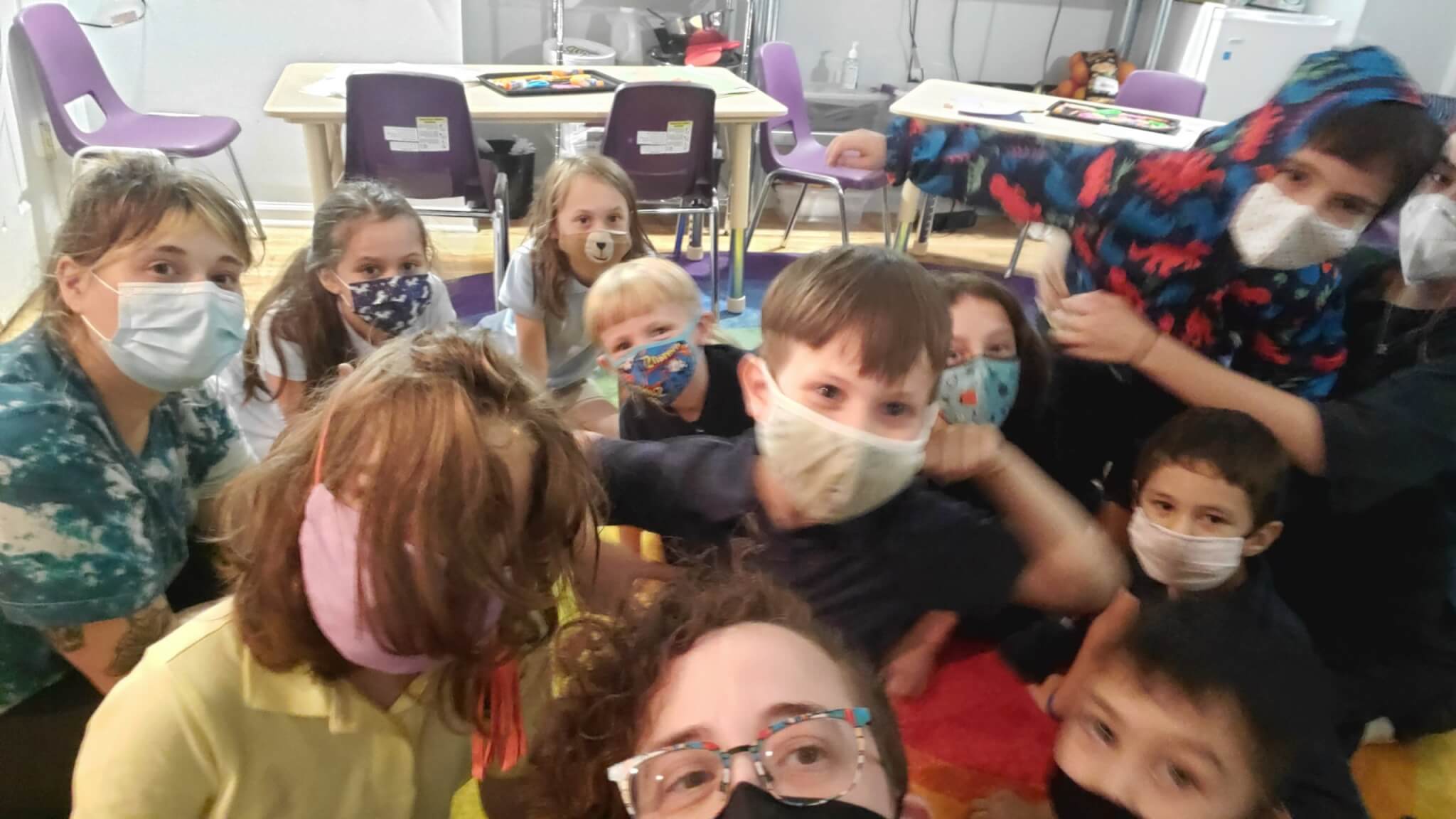 Our first week of Jewish Enrichment has come and gone and what a week it has been. We are so lucky to have this special group of students in our very first year of Jewish Enrichment at Makom Community South Philly. Thank you for being part of our community and trusting us with your kiddos!
This week our youngest learners braved kindergarten in their new schools and some of them joined us for Extended Enrichment where we explored with paint, printed with apples, and worked on sending secret Rosh Hashanah messages to each other using a wax resist technique. Kol hakavod– amazing job! so impressed with the resilience of these kiddos!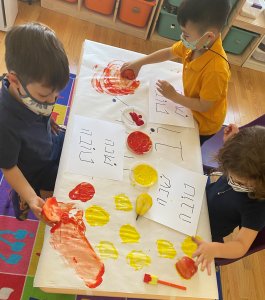 We explored what it means to be a community. As we settled into our new space together we began discussing what we would like to promise one another this year. Then we drafted our brit (two-way promise). When discussing what values are important for us to uphold in our space students decided we should promise:
To be kind.

Make sure that everyone has what they need and make sure we have what we need too.

Be kind to the earth by using both sides of the paper and finding other ways to recycle/upcycle.

Be kind to each other by keeping our masks on always unless we are eating or drinking.

Be kind to each other by only having one voice speak at a time unless we are singing or making noise as a whole group.

Be kind to our space by keeping it clean and respecting

Rabbanit Dasi Fruchter's house and garden.

To look for ways to help each other.

To show our love by asking friends before we touch their bodies and give hugs only when everyone consents.

To enjoy our time and have fun.

To make time to do the activities we want.

To be inclusive by inviting friends to play with us.

To be honest and believe in each other.

To make sure we are safe.
We dove deep into what it looks like, feels like, and means to love our neighbors, engage in self reflection, and of course we learned all about Rosh Hashanah. Kiddos defined self reflection as "to try to do something better" We thought about mistakes, what it means to make a mistake, and we discussed how we know when we have made a mistake. Some ideas were:
Someone might be crying

Someone might tell you they don't like it

Someone might look sad

Someone might look mad (this contribution was accompanied by an example of a mad faces)
When engaging in a Shofar study students noticed so many things about our Shofar:
It looks bumpy

It has a lot of lines

One is to show and tell everyone it's Rosh Hashanah. The other one is small just to tell my family.

This one is curly.

It is bigger at one end and smaller at the other.

The longer one has black lines and the smaller one has brown lines.

It comes from a ram.

It looks like wood.
We asked questions:
Does it harm the animal to make the Shofar?

What is it made out of?

Why are the textures different?

What animal's do Shofarim come from?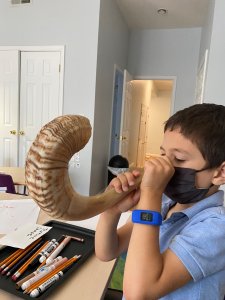 Kiddos thought about ideas they wanted to work on for the new year, we wrote and drew our ideas in chalk and then washed them away with water releasing any negative feelings and thoughts we were holding onto.
We began the week with a neighbor meditation. Some kiddos shared what came up for them when thinking about neighbors. We thought about directions, houses, and reflected on who our neighbors are. One kiddo shared that their neighbor across the street is named Norman and described that Norman is old and has black hair.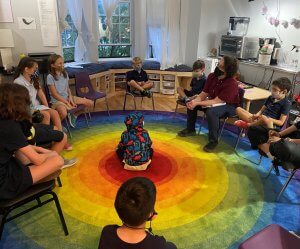 When walking back to Makom from school some of our kiddos met our neighbor Barbara who is the crossing guard near Columbus park. We noticed the things that make up our community. A pillar of our community is the fire station. One kiddo shared a memory with us from her past about a time when she went inside the fire station! We discussed all the dogs who like to play at the dog park in Columbus Square where we like to play also!
In the middle of the week we sheltered in place during the Tornado warning. Together we processed our feelings, played games, and read books. We were so impressed with how good the kiddos were about following safety instructions when it was really important to do so. This hard moment where we were worried about our community, neighbors, and neighborhood was a good opportunity for us to practice some of the aspects of our brit we have already come up with. I noticed students practicing kindness to one another as they shared the odds and ends we discovered in the basement.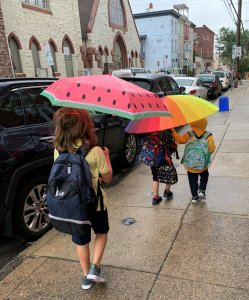 All week we experimented with different mediums as we engaged in shulchanot avodah (learning activities). We made Shana Tova cards for our friends at Makom Center City, worked on Rosh Hashanah resolution illustrations, sculpted things that are important to us, explored the Shofar, and made creations from loose parts that represented the elements of our neighborhood that are special.
When describing their creations kiddos said:
"Tacos are important to me because that's what I eat every night, well most nights for dinner. I like burritos because that's what I eat when I don't eat tacos at night"

"I made the scroll at the other Makom, I like Makom"
"These are the earth and these are the rocks. I like the earth and the neighborhood is on the earth."
"I made a sandwich, four sandwiches, in different colors for Pride. I want everyone to be welcome to the earth"
During Tefilah, Music and Movement we moved our bodies, sang and danced. The kiddos reflected that "The singing made [them] want to dance" and that "[They] noticed when we sang that all of our sounds came together to make one sound."
On Friday we were so overjoyed to welcome families for our first Family Shabbat Celebration. We made challah, sang, danced, and reflected on the year to come. We can't wait to continue learning and growing with all of you. L'shana Tova!