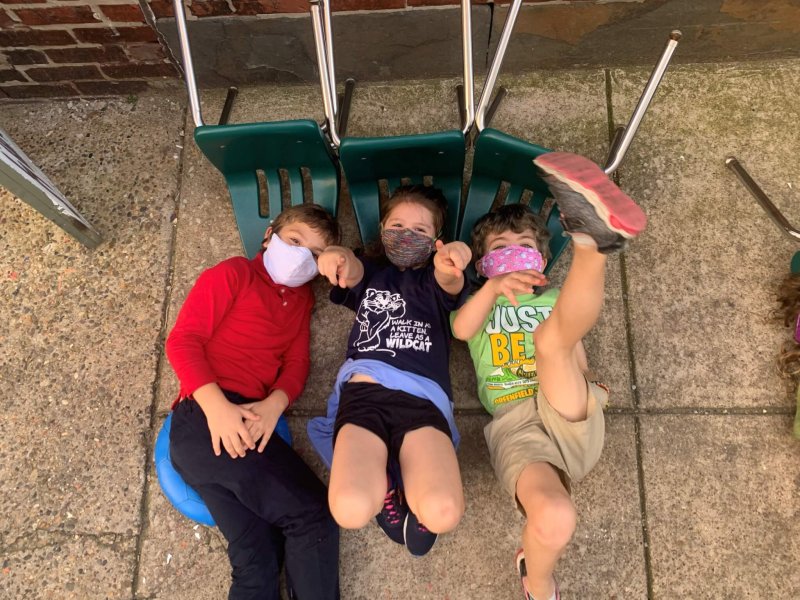 This week, we looked at the Ecclesiastes 4:9-10 text, "Two are better than one… for should they fall, one can raise the other; but oh no! for the one who is alone and falls with no companion to raise them!"
Garinim started off our learning on Tuesday with a trust fall activity. Kiddos had the opportunity to fall with a teacher catching them and then to take turns catching each other. We reflected on the experience:
What was it like to be the faller?
Scary

I was worried

I worried that I would fall all the way down

I thought that maybe the other person wasn't strong enough to catch me.

I worried that the catcher wouldn't be ready and then they would fall too.
What was it like to be the catcher?
I was also scared and a little worried.

I was scared if it seemed like the person falling was heavier than me because then I might fall with them.

I was worried that someone would fall on me and I would get hurt.

My body told me not to do it – I thought I wasn't strong enough to catch them.
What would have happened if you had fallen and the catcher wasn't there?
I would have gotten hurt.

It would not be nice if the catcher just walked away when they knew I was expecting them to catch me.

I would have gotten scraped up.

Your body might break.

Your brain might break!
We connected this trust fall activity to our text for the day and some of the Garinim agreed that it was better to have a buddy. Some argued instead that there were certain moments where it would be better to be alone. For instance, one learner prefers to be alone when someone else tries to help her with a project but doesn't understand what she's trying to do. Other learners prefer having companions especially when they're playing or looking for hugs.
How might having a buddy change a person's experience when something tough is happening?
Once my brother pushed me down on the sidewalk on accident, but my mom was there to get me a bandaid, so she helped me feel better.

My brother hit me, but my friend helped me get up.
How might having a buddy change a person's experience when they want to celebrate something?
It makes it more fun!

I'd be happier that way.

HUGS!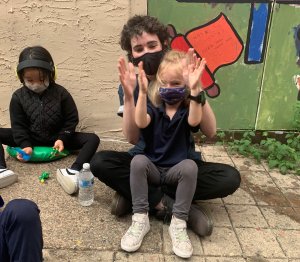 On Tuesday, Shorashim started the day with a hula hoop challenge. The goal was to get the hula hoop from one side of the group to the other while everyone holds hands.. After first completing it in 3 minutes 30 seconds, we tried again and got our time down to 1 minute 20 seconds. We noticed ways that we saw one another helping each other during the challenge, and discussed the pros and cons of working on things in a bigger versus a smaller group. Kids observed that bigger groups can take longer to get things done, but also have more kinds of expertise and experience to draw on.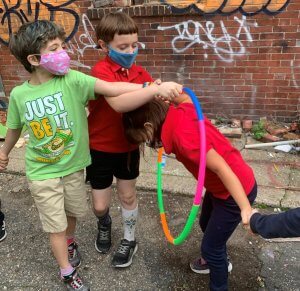 Then we transitioned to discussing a text from Ecclesiastes about the importance of companionship, which says that when one has a companion "if they should fall, one can raise the other." Kids also noted that companions can:
Help them be safe

Share thoughts on right and wrong.
On Wednesday, we talked about supporting one another. After reading Brave Girl: Clara and the Shirtwaist Makers' Strike, we noted how when multiple unions worked together, the impact was much greater, and connected that to the text while also noting the Jewish history of collective organizing. Then we talked more about supporting another.
Kids noted that it can be hard to ask for support if you feel like you are the only one who needs it. On the other hand, kids noted that there is a time and place for support; asking another kid for help on a test might not be the right way to get support.
Getting support can feel:
While being asked to give support can feel:
Generally, kids felt like asking for help directly is the best way to get support. If someone else looks like they need support but doesn't ask for it, kids suggested that you should check with them if they need help, and then respect their decision either way.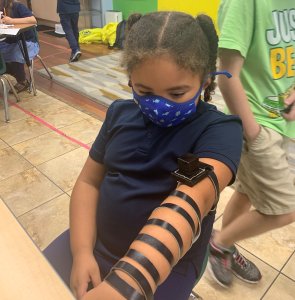 Nitzanim explored the meaning and usefulness of being a part of a chevrutah or learning pair. The kiddos took a look at our text about companionship in chevrutot and we came back together to discuss if two is really better off than one. We reflected on having experiences alone, versus together. Here's some of the thoughts we had:
A job can give a worker purpose, and a companionship can give each friend purpose

Doing things alone can prevent mean comments from being said

Sometimes it's better to cope with things alone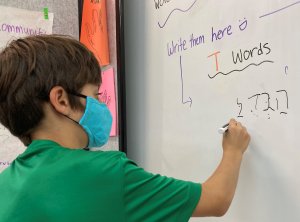 During tefilah, we came up with new hand gestures to go along with the parts of the V'ahavta. It was great getting to move around during tefilah and seeing what everyone came up with.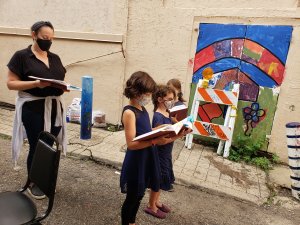 On Wednesday, we had a conversation about raising one another up. Kiddos reflected on the experience of giving and receiving help. Here are some insights from our kiddos:
A music teacher raised me up when giving me constructive criticism for playing an instrument

I go to mom for help- whenever I lose something I ask her, and poof! It's found.

When people ask me for help, it makes me feel proud and respected
Connecting to our conversation about help, we went on a walk to Rittenhouse with the intention of noticing acts of kindness as well as things we're thankful for. Kiddos were thankful for trees, people, animals, and Shake Shack! We also noticed people who needed help and discussed practical and safe ways to help them in the future.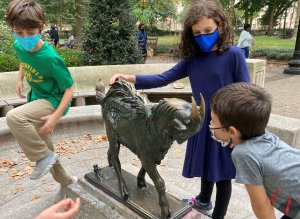 We have reached the proposal phase for our showcase projects! Kiddos have been putting a lot of thought and creativity into these proposals. We can't wait to come together and agree on a plan.
This week was full of Jewish wisdom from our kiddos, we can't wait to see what's in store for next week!