What might happen to both ourselves and our communities if we separate ourselves from them? This week, we explored text from Sanhedrin 37a:15 saying, "If a person makes many coins from one stamp, they are all exactly alike. But even though God created every person using the stamp of the first human, not a single one of them is exactly like another", as well as text from Pirkei Avot 2:4: "Hillel said: do not separate yourself from the community, … Do not judge your fellow until you have reached their place. Do not say something that cannot be understood that in the end it will be understood". On Monday, Learners explored the Sanhedrin text and the rest of the week, they unpacked the Pirkei Avot text throughout the week, one sentence at a time.
On Monday, the Garinim looked at a text that likens the making of people to the making of coins: both are stamped out from the same die to make lots of copies. But unlike when people make coins where one die produces many identical coins, when God uses the stamp of Adam, the first person, to make other people, all those people are a little different from each other (Sanhedrin 37a:15).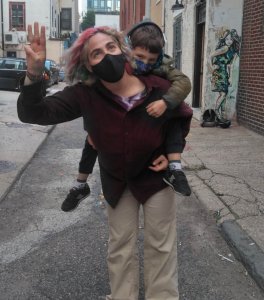 The Garinim did an experiment. Each kid got a chance to use the same stamp to make an imprint on their paper. We realized that even though the stamp would only ever make one picture, those pictures were actually pretty different from each other. Some were missing some lines in certain places, some were smudged a bit, some had a bit of a double imprint from being pressed down twice. We expanded our experience with the stamps to how we can think about people.
What are ways people are similar to each other?
We all get cold.

People all have language.

We need food.

We all have hair.

Our bodies are all similar.
What are some ways people are different?
People all speak different languages.

Our hair is all different colors and textures.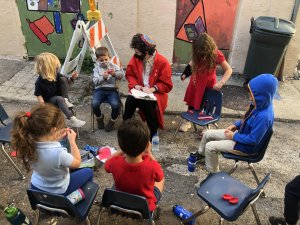 The text continues to suggest that anyone, not necessarily Adam, could be the stamp from which God made the rest of humanity. Because of that, we should see ourselves as though the whole world was created just for us, and then recognize the significance of our actions.
What's it like to imagine that the whole world was created just for you?
I would be so happy!

I wouldn't be able to see my mom, dad, or best friends if it was just me here, so that would be a little sad.

It's sort of in the middle for me if I didn't have friends or other people, but then I could create the rest.

I think it would be great for the whole world to be just for me and then I could create whatever other parts I want.

If the whole world were created for me then I think it means that my choices and actions matter a whole lot.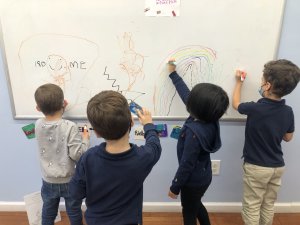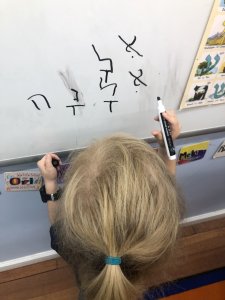 The Shorashim started off our week reading the classic book, The Rainbow Fish with a critical eye to how similarities and differences are portrayed in the book. Kids noted that The Rainbow Fish was not the only special fish; there was also the wise octopus. Kids were split on whether sharing his shiny scales was a good decision; some thought that this would be good so that no one would be jealous, while others worried that Rainbow Fish would regret changing his appearance for others. We also came to a consensus that making sure the needs of everyone in a group are met is not the same as everyone is having the same thing. For example, we might sometimes be jealous if other people in our group have things we don't, just like the other fish were of the Rainbow Fish, but some of us need more fidgets, or stuffed animals, or time in the Pinat Shalom to be successful in our group.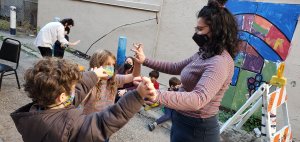 We then considered the Sanhedrin 37a:15 text about sameness and difference in people; that we are all different but also all connected. Kids concluded that they disagreed with the metaphor in the text that "if a person makes many coins from one stamp, they are all exactly alike." Indeed, our stamping activity during Shulchanot Avodah confirmed that even when a person uses the same stamp over and over, they can get a variety of results.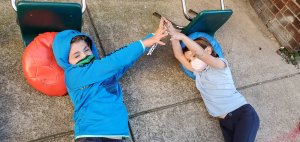 On Tuesday, to start thinking about different types of roles in a community, kids were presented with a scenario–a natural disaster in Philadelphia that leaves lots of people needing help, people without power, and an inadequate public response–and given a few possible responses:
Helper (cooking food, giving out band-aids, or cleaning up the mess).

Advocate (writing to elected officials to demand a better response).

Organizer (getting friends together to make a plan).

Rebel (going to a big public protest to demand companies like PECO take action).
We found that in Shorashim, the most popular role where kids would be likely to see themselves is the Advocate role; a few also picked the Helper and Rebel roles. Reasons given for Advocate were that it felt simple and realistic, and that kids have the computer skills to do so easily. However, several kids also brought up that writing a letter or email often does not end up accomplishing anything. Kids also brought up the issue of power, and observed that powerful institutions may have greater ability to solve problems than individuals on their own. In the end, we concluded that to solve the problem would take lots of people all finding their own role, and that all roles were valid and necessary to do together.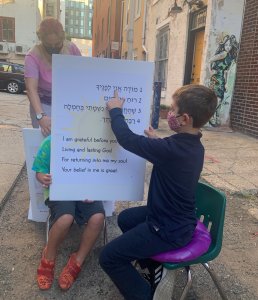 On Monday, Nitzanim took a closer look at the Bar'chu prayer, reflecting on what a call to prayer looks like and feels like. How do we know when we're ready to pray?
When we feel calm and ready.

In quiet or meditative moments.
When we don't feel ready to pray, we brainstormed ways that could get us excited! Here are things we can do to prepare:
Request a specific tune we're excited about!

Thinking about the order of the prayers and what's to come.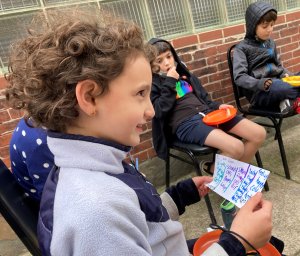 On Tuesday we explored this Pirkei Avot: "Hillel said: do not separate yourself from the community." We reflected on the many communities we are part of, and if we agreed or disagreed with Hillel. Some insights:
We're all part of the human community.

We're part of the Makom community.

There are times when we have no choice but to separate from our communities, like when we move.

It can be sad to leave friends and family in certain communities, but joining a new community with a whole new group of people can be an exciting challenge.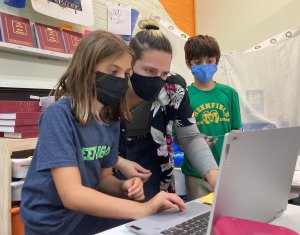 On Wednesday, we started playing our Hebrew board game! Kiddos created their own cards with hebrew letters to play together and strengthen our Hebrew skills. We also sat down and, using pictures and words, defined certain Makom-specific and general shabbat words to be added to our Shabbat Siddur page. Great job Nitzanim!
This week was full of dancing, games, wisdom, and laughter! We can't wait to see them next week