It was another fun-filled action-packed day of PJDS Camp here at Makom!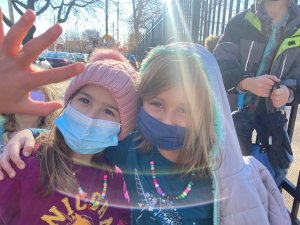 We considered emotions as they relate to the month of Tevet. Students were eager to share their emotions as we brainstormed when and why certain emotions might come up. We sat around the rainbow rug and thought about a range of emotions. I watched as our youngest and oldest learners came together to engage in a thoughtful dialogue.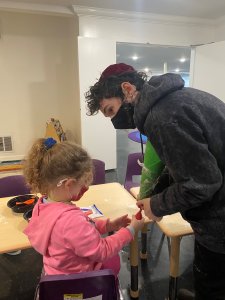 One friend shared that sometimes she feels nervous when coming to a new place. A lot of other kiddos agreed. We named that this feeling of nervousness might show up as a pit in your stomach or perhaps as a hot flushed sensation on your face.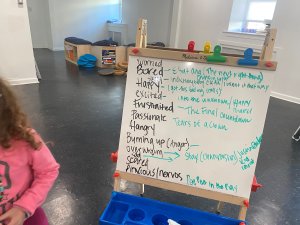 Once we finished our emotions brainstorm, learners thought about songs that match the energy of each emotion. I watched as I saw eager hands shoot into the air. "I know, I know! Can't Stop the Feeling from Trolls, that is happiness to me!" someone shared. "What is that song in Frozen?" Another friend asked. "Oh! Into the Unknown? That is a great one for nervous!" Another kiddo offered. Every learner was engaged and passionate about the activity. Once we finished making our collective playlist, we listened to the music while collectively building a mandala out of upcycled materials. As we worked our decisions were influenced by the music.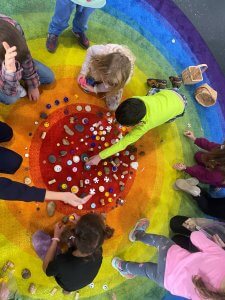 Hearing the joy of students as they volunteered songs that they truly felt matched each emotion was such a pleasure to witness. I was emotional watching as kiddos made sure that everyone's song choice was heard and that everyone had a turn with each material in a self-directed way.
We had a wonderful joy filled learning experience together and we can't wait to see you soon!