How We Work
A Typical Day at Makom Community
We fit Jewish education into the busy lives of urban families. We pick children up Monday through Friday from area elementary schools, on a flexible schedule. They walk or take group travel on SEPTA back to our center at 20th & Sansom Street, for a healthy snack and a whole afternoon of Jewish learning, until parent pickup by 6:00pm. While they are with us, children also have time with friends and mentors and can begin homework or have some much needed downtime with their favorite book.
Our Innovative Pedagogy- Jewish Placemaking
Jewish Placemaking has a few key goals:
Child-led learning: Children pursue their own interests and learn in ways that work well for them.
Relationship-building: Emotional intelligence and community building skills are core concepts.
Playful, Joyful Jewish learning: We have FUN exploring Jewish text and ideas and making them relevant.
Parent Empowerment: All parents are empowered interpreters of Jewish tradition, especially at our weekly Family Shabbat Celebration.
Sample Schedule & Curriculum Overview
3:00-4:00
Arrive: Arrive at Makom Community and Eat Snack
4:00-4:30
Textploration: Discovering our Jewish texts
4:30-5:00
Shulchanot Avodah: Project Centers and Project-Based Learning
5:00-5:30
Tefilah: Prayer, Music, and Movement
5:30-6:00
End of Day: Homework and Free Time
5:45
Chester Arthur Walking Group Leaves from Makom Community – Center City Only
6:00
Pick Up: Last Pickup at Makom Community
Textploration
We explore a section of Jewish text in a variety of ways! Often, kids will draw, sculpt or build what they hear. Sometimes, learners act to bring the text to life or listen to our educators dynamically share the text. We start with an opening activity to anchor the big ideas in the text in our lived experience. Then we engage in both discussion and activities that delve into the questions we take from the text. This helps us understand how we can apply this bit of Jewish wisdom to our lives.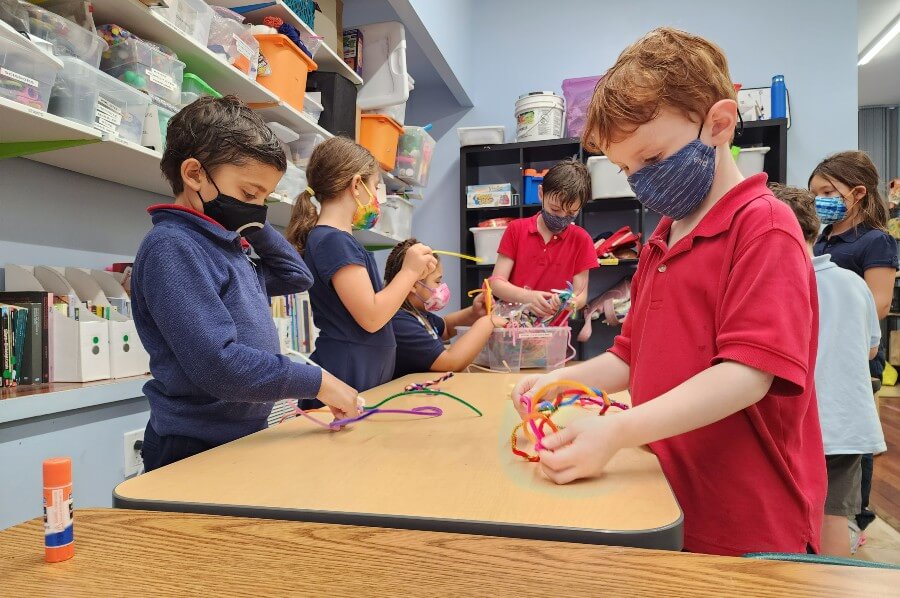 Shulchanot Avodah – Activity Tables
We meet learners where they are! We know not every child processes the same way or wants to engage with the same activity. At Shulchanot Avodah (activity tables) everyone gets to choose how they'd like to play with the text or pursue their Hebrew learning. One child busily collages a self-portrait. Two other learners use natural materials to build representations of scenes from a text. Another child flips from image to image online as they imagine what the flora and fauna might have looked like in an earlier time. Another kid reads aloud for a group from a children's book and leads a discussion on how the story connects back to the text we learned that day. One learner sits quietly on her own practicing Hebrew learning with a matching game or by tracing letters in kinetic sand. Educators move from child to child to find out whether they can help with the project that a particular student is working on. In Nitzanim (3rd-5th grade) our students are immersed in Project-Based Learning which is an extended version of Shulchanot Avodah. Shulchanot Avodah generally last for a week at a time. Project-Based Learning is working on one project throughout a whole unit as the kids' learning grows.
Tefilah: Prayer, Music, and Movement
Everyone grabs their siddur (prayer book) and finds a comfortable spot on a carpet as we sing a niggun (a wordless tune). We sing prayers and move with the music—jumping, walking, and contextualizing the text of prayers through the use of gestures and sign language to provide deeper understanding. Many of the students volunteer to lead parts of the prayer service, but some do not. While some students choose to lead pieces, and others use their siddurim to write down or draw ideas that come to them during Tefilah: Prayer, Music, and Movement.
Ivrit, Hebrew
Makom Community's pedagogy, Jewish Placemaking, is an immersive environment where our Jewish texts, rituals, and customs are woven into our environment and how we interact with each other. Hebrew, including learning to decode, is part of that environment. Through play, discussion, the dissection of key words in text study, and the joyful, confidence-building Tefilah experience, we braid Hebrew learning into Makom learning everyday. Tefilah is rooted in communal connection and ancestral connection by singing as a means of engaging with ancient liturgy and developing mindfulness. Kids have a strong sense of ownership of their Jewish environment and build a sense of ownership around the prayers, vying for a turn to lead elements of Tefilah. Just as Torah is ours to understand, question, and to find personal meaning in, so is Tefilah. As learners discover that Tefilah can ground them in their Jewish environment, they will express when they are ready to master prayers. Learners begin to master Hebrew prayers in Nitzanim (3rd-4th grade), and each learner constructs their own path toward Hebrew mastery. (Note: Mastery is what we call the process of a learner being able to read, lead, and make personal meaning out of a prayer.)