The Makom Community Team
Working Together to Provide Quality Jewish Education
Beverly Socher-Lerner
Founding Director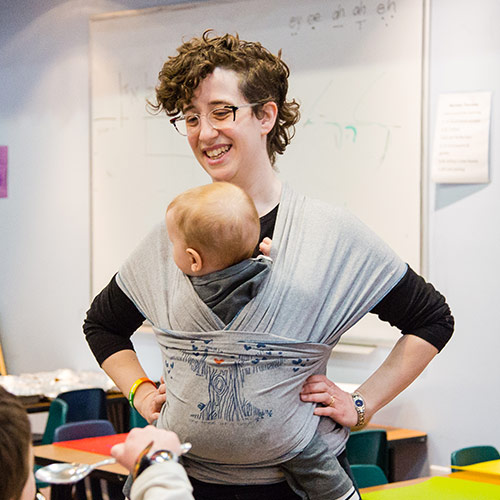 Beverly is an innovative and passionate Jewish educational leader who believes that each person constructs meaning in his or her life based on his or her experiences. Makom Community is built around creating learning experiences for families and children that are both joyous and meaningful.
Beverly received a B.A. in Jewish Studies from the University of Maryland (UMD). While she was at UMD, she researched Israeli Education at Israel's National Library in Jerusalem and the Tel Aviv Education Archives on an Isadore and Bertha Gudelsky Scholarship for Research in Israel. Beverly was also a fellow at Yeshivat Hadar, an egalitarian yeshiva in New York City. Beverly received her M.S.Ed. from the University of Pennsylvania in Jewish Education. In the last ten years directing synagogue schools at Congregation Shaare Tikvah in Upper Marlboro, MD and Temple Beth Sholom in Cherry Hill, NJ, and working at Barrack Hebrew Academy, Beverly has developed over forty new curricula for students and families of all ages. Beverly is a 2019 recipient of the Covenant Foundation Pomegranate Prize and a Shalom Hartman Created Equal Fellow in 2020.
She is excited to build community with families here in Philadelphia to advance this new model of Jewish education for urban children and families that is taking root around the country in Berkeley, CA, Silver Spring, MD, Atlanta, GA. This new model meets the distinct needs of urban families and creates joyous, immersive, and effective Jewish education in a whole new way.
Amanda Phillips
Center City Director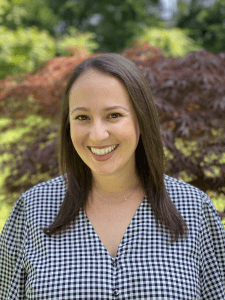 Amanda is a passionate Jewish educator who loves creating immersive experiences for learners and their families. Originally from Sarasota, Florida, she acquired her love for Judaism from her many summers attending and working at Camp Ramah Darom in Clayton, Georgia. She received a B.A. in Jewish Studies and Nonprofit Management from Indiana University and an M.A. in Jewish Education from the Jewish Theological Seminary (JTS) in New York City. While at JTS, Amanda also pursued a Master's concentration in Israel Education from the iCenter, the national hub for Israel Education. During her time in New York City, Amanda led summer teen travel, worked in numerous synagogue schools across the New York metropolitan area, and staffed Birthright Israel trips. She was the Assistant Director of the Lese Center for Living Judaism at Central Synagogue in Manhattan, where she created meaningful experiences for learners of all ages, both in and outside of the classroom. Amanda is so excited to be with all of the students and families at Makom Community, and can't wait for a wonderful year of fun and learning!
Gaby Marantz
Jewish Enrichment Lead educator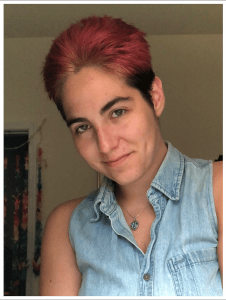 Gaby is a musical and energetic Jewish educator who grew up in Central New Jersey. She studied psychology and linguistics at NYU and spent many happy summers at Habonim Dror summer camps. Gaby recently completed her M.Ed. from Weidner in Education. She loves dancing, baking intricate desserts, and making the world a more colorful place. She's excited to have the opportunity to learn, sing, create, and giggle with our amazing students every day of the week!
Gaby was a Matan Intstitute Fellow in Cohort 10 where she learned deeply about how to engage all our learners at Makom Community.
Noa Urbaitel
Camp Coordinator and Community Storyteller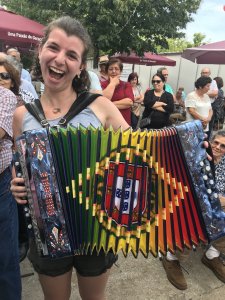 Noa is often described as a ball of energy, and is always ready with a joke or a fun fact. She was born and raised in Vermont, and graduated from Drexel University with a B.S. in Dance with a concentration in education. When she isn't at Makom Community, she loves reading, travelling, playing with her insane cat, Luna, and exploring different museums in Philadelphia. Noa is excited to run some amazing camp days, and help shape the next generation of excited Jews!
Isabella Dorfman
Program Assistant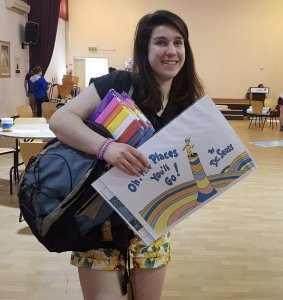 Isabella was born and raised in Massachusetts. She received her Bachelors degree from Bryn Mawr College, where she studied History and Middle Eastern Studies. After graduation, she spent a year teaching English in Jerusalem as a Masa Israel Teaching Fellow. When she is not at Makom Community, Isabella loves going to dance classes, attending events around the city, and reading comics!
David Feinberg
BMitzvah Teacher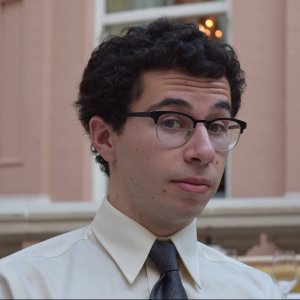 David is an empowered Jewish Educator with a love of making Jewish learning become honest and exciting. Growing up in the Philly area, David's love of Jewish learning was brought together through a mix of Jewish Day School, summers at Ramah Poconos, and a passion for Mel Brooks movies.
A lover of all things comedic and creative, he's exciting to be bringing these passions together to create a dynamic and new classroom experience after years of stirring things up as an Education Specialist at Beth El in Yardley PA. A comedian and creator, David is a member of "The Bible Players" as well as a variety of projects throughout Philly and beyond.
Abigayle Stoetzer
Distance Learning Day Teacher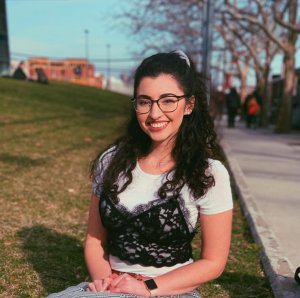 Abigayle (Abby) is bubbly, animated, compassionate, and sensitive to the needs of others. She is from Cherry Hill, New Jersey and recently graduated from Temple University with a BM in Vocal Performance. Abby is especially passionate about Jewish music. She was the Music Director of her collegiate a cappella group, Jewkebox, where she arranged and taught both pop and Jewish Music. When she isn't at Makom Community, she can be found taking pictures of her cat, Stella, listening to podcasts, and discovering new vegetables to try. Abby is excited to incorporate many musical activities into Distance Learning Days and during Jewish Enrichment, as well as assist the kiddos in any way she can!
Advisory Board
Executive Board
Walker Allen
Jeremy Bannett
Terri Soifer
Barbara Schneider
Mike Slutsky
James Stein, Board Chair