For our first unit, "Love Your Neighbor," Nitzanim (3rd, 4th and 5th graders) worked collaboratively for weeks to answer the question: "How might we practice loving our neighbors to cultivate a welcoming environment at Makom Community?"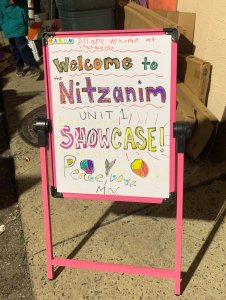 Using the project based learning model, we started this process by brainstorming things that make us feel welcome like warm/bright colors, fun images and mac n' cheese! We were excited about designing a mural and a siddur (prayer book) page that explains Makom and our community's Shabbat traditions! We realized these are both very visual ideas, and wanted to welcome our friends and family in a more accessible way. Our solution was to create an audio version of our siddur page! You might notice a QR code on the page. When you scan the code, you will be directed to a link that plays a recording of the siddur page read out loud, by us.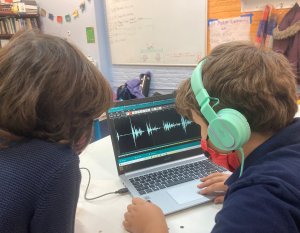 For our siddur, we thought it would be most welcoming to provide information for our guests, so they could participate in our Family Shabbat Celebration with confidence and ruach (or, spirit)! This is why we included a vocabulary list. We also included the history of Makom, written after an interview with Beverly, our founding director. We hoped this history makes it clear that Makom is a welcoming place for everyone to become who they are supposed to be.
Speaking of welcoming, you might notice that our mural reads "Everyone is welcome at Makom Community." We wanted to make sure our mural communicated that fact both in words and in images! We created this mural through a long process with lots of teamwork! Starting with a big brainstorm of images we found welcoming, including bright and warm colors, the word welcome, hearts, the earth we all call home, peace signs, a diverse community of cats, and mac n cheese, which is one of Nitzanim's favorite foods.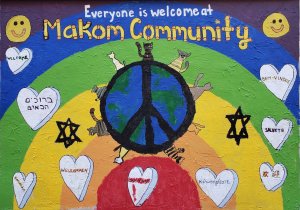 We learned that in the Torah, the phrase "love your neighbor as yourself" appears just once, but the phrase "love the stranger" appears 37 times! We included the word "welcome" in many other languages so that even if someone visits Makom who is a stranger to us, they might know that they are welcomed. We all had so many awesome ideas after that, so the class split up to create "proposals".
We practiced working together and offering kind feedback by presenting our proposals to each other and then noting what we liked about each proposal. We also used the phrase "I wonder" to offer feedback and focus our ideas.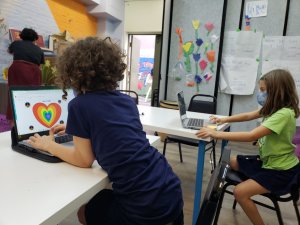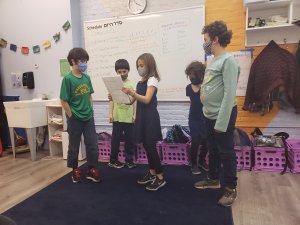 Once we had seen all the proposals, we worked together to combine those ideas into the design you see today! Once the design was done we got to start painting it on the wall. While some of us painted, some of us recorded audio and edited the siddur page inside. Those days were busy busy busy! We hope this project helps families and guests feel welcomed and loved when at Makom Community.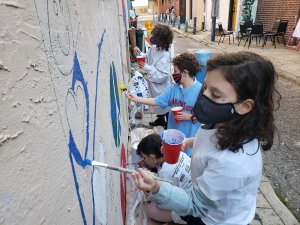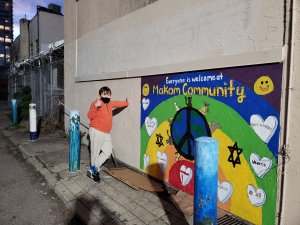 On showcase day, we spent most of the afternoon prepping our space and our presentation. All hands were on deck to transform Nitzanim's room into a gallery walk of the process of our project and to make sure enough mac n' cheese was scooped to be served to the families during Shabbat! Finally families arrived and kiddos acted as greeters and docents, guiding them through our gallery walk out to the alley where our mural is for Family Shabbat Celebrations.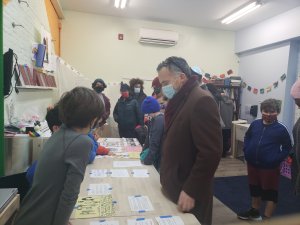 Nitzanim helped lead the service and everyone shined as they explained our project and what it meant to them to the families. The night was wrapped with challah, mac n' cheese, and some proud Nitzanim educators!