Find community amid the chilly weather at Makom's Extended Enrichment Days!
Extended Enrichment will be held on:
Friday, January 21st
Tuesday, February 2nd
Wednesday, February 3rd
Thursday, February 4th
Friday, February 18th
Cost is $60 from 12pm-5:30pm. If your child normally attends Jewish Enrichment on the day of the Extended Enrichment, you can enroll them for the discounted rate of $40. If your child does not normally attend Jewish Enrichment on the day of Extended Enrichment, you can enroll for that day from 12:00pm-5:30pm for $60.
For public school students, Extended Enrichment is your option on early release days if you would like Makom to pick up your kiddo; otherwise you are welcome to drop off your child anytime after 3:00pm.
Extended Enrichment for ICS
In addition, ICS and TPS are closed on Friday, February 18th; parents are welcome to sign up their kids for extended enrichment that day and drop off at Makom starting at 12pm. On Wednesday, February 2, ICS kids who normally attend Makom on Wednesdays will join the extended enrichment activities when they get out of school but will not need to sign up separately.
We will have a School's Out Camp on Tuesday, February 1st held at both South Philly and Center City locations from 8:30am-4pm, $75 for the day.
Feel free to reach out to Amanda, Center City Director (amanda@makomcommunity.org) or Leah, South Philly Director (leah@makomcommunity.org) with any questions.
To enroll, click here.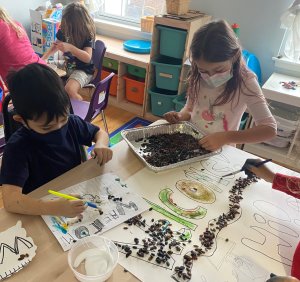 Extended Enrichment:
On Friday, January 21st, we'll follow up on the discussions of trees that have happened in Jewish Enrichment for Tu Bish'vat, spending time noticing the trees while we are outside at the playground, and doing a winter tree art project.
Looking ahead, on February 2, 3, 4, and 18th Extended Enrichment, we'll do more winter-themed crafts that connect to the light within us, and spend time outside at the playground under the winter sun. We'll read books like "The Snowy Day" along with others that touch on winter, snow, Judaism, Black history, and more. On Fridays, kids also get the chance to make their challah dough from scratch before braiding it as usual later in the afternoon.
Extended Enrichment Schedule:
12:00-1:00 – Arrival and Lunch/Snack: Kids are picked up by educators from their respective schools, or can be dropped off at Makom. If they haven't eaten lunch at school, they will have time to eat when they arrive, or we will provide a snack.
1:00 – Challah dough making, reading, or project: On Fridays, we will make our challah dough. Other days we might read a book or do a craft.
1:30 – Trip to the park: Wear lots of layers! We love fresh air, even in colder weather. We enjoy time at a local playground or park.
2:30 – Additional Group Activity: An additional craft or book will be ready to go as we come from the playground and warm up. On January 21st, for example, we'll do a mixed media tree art project. Depending on time and group energy, we'll also play active games like Freeze Dance or Red Light/Green Light.
3:00 – Free Time and Transition to Jewish Enrichment: Kids might have some time for building, drawing, or boardgames, before going outside for snack before Jewish Enrichment.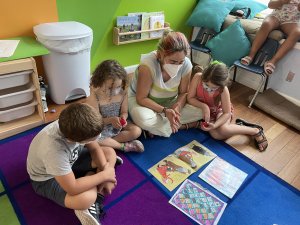 To enroll, click here.