Makom @ Home celebrated Tu Bishvat, the birthday of the trees, with a text from the Talmud about Honi the Circlemaker. When Honi's town had a big drought, he drew a circle and stood inside it, crying out to God that he would not leave until it rained. Spoiler: it rained!
We started by sharing things we like that are circles, a lighthearted way to connect to the text:
Cookies 🍪

Donuts 🍩

COOKIESSSSSSSSSSSSSSS🍪

I LOVE DOUGHNUTS AND COOKIES.

Oreos

Heads – they keep your brain safe. 🧠
Then we dug in deeper. One learner explained the problem that Honi and his neighbors faced:
No rain, no humanity. Rain grows plants and other stuff so that we can eat and sell. If we can't eat and sell, we don't have anywhere to live or eat. Eventually the animals we eat will also die from dehydration and we will die. 🙁
We considered why Honi might have decided to stand in a circle until it rained? Did he really expect it to help?
Think about it this way: People are dying and getting dehydrated and starved from no rain. He might be getting frustrated. If I were in the situation, I would try anything to get rain.

He was using what he had.
We also thought about what kinds of problems outside of our control we face and what we can do about them:
I want to be an environmentalist. Like Greta Thunberg.

I also want to end bullying and war.

And FIGHTING!

Do small things.

Small things can make a big difference.

Tell other people what they can do.
During Tefilah that day, I invited us to dance like trees during Tzadik Katamar which compares humans to trees. One of our learners offered her own spontaneous kavanah (intention) to help us connect to the liturgy in another way:
How would you feel if you were singing this without the trees? Show us or tell us.
We had two more Jewish Placemaking successes, where our kiddos got to help create their learning environment. The first was while we were playing Hebrew letter bingo. One of our learners asked if there were prizes for the winners. I said I didn't prepare any prizes, but I would think of some while we played. The kids beat me to it with these thoughtful and very doable suggestions:
Choose your job first when we switch class jobs.

Choose a 1-minute celebration activity for us to do together.
We had two winners that day, one who chose her next job and one who wanted us to read a poem, which we did.
The second incredible Jewish Placemaking moment happened at the beginning of our next class. Each class, we start with a chance for each of us to share how we're doing, acknowledging that we've all had days (sometimes long ones) before we get to Makom @ Home. We rotate through who chooses the format of the check-in. I offered a few options at the beginning of the year – thumbs up/down/sideways, 0-10 fingers, emojis in the chat. 95% of the time, whoever's turn it is picks emojis and we get a colorful array of faces and other small icons reflecting each person's internal state. This time, one of our learners invented a new kind of check-in, the whiteboard check-in. She asked me to screenshare a whiteboard and invited each of us to draw an expression of how we're doing. Here's what we shared: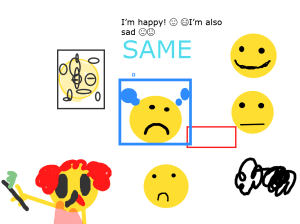 Whether it's feeling safe enough to show how they are really feeling or checking in on a classmate who seems upset, the Makom @ Home kiddos are showing what it means to build a caring community of learners. As our connections deepen, so does our learning! I can't wait to see what Torah they will teach me next!