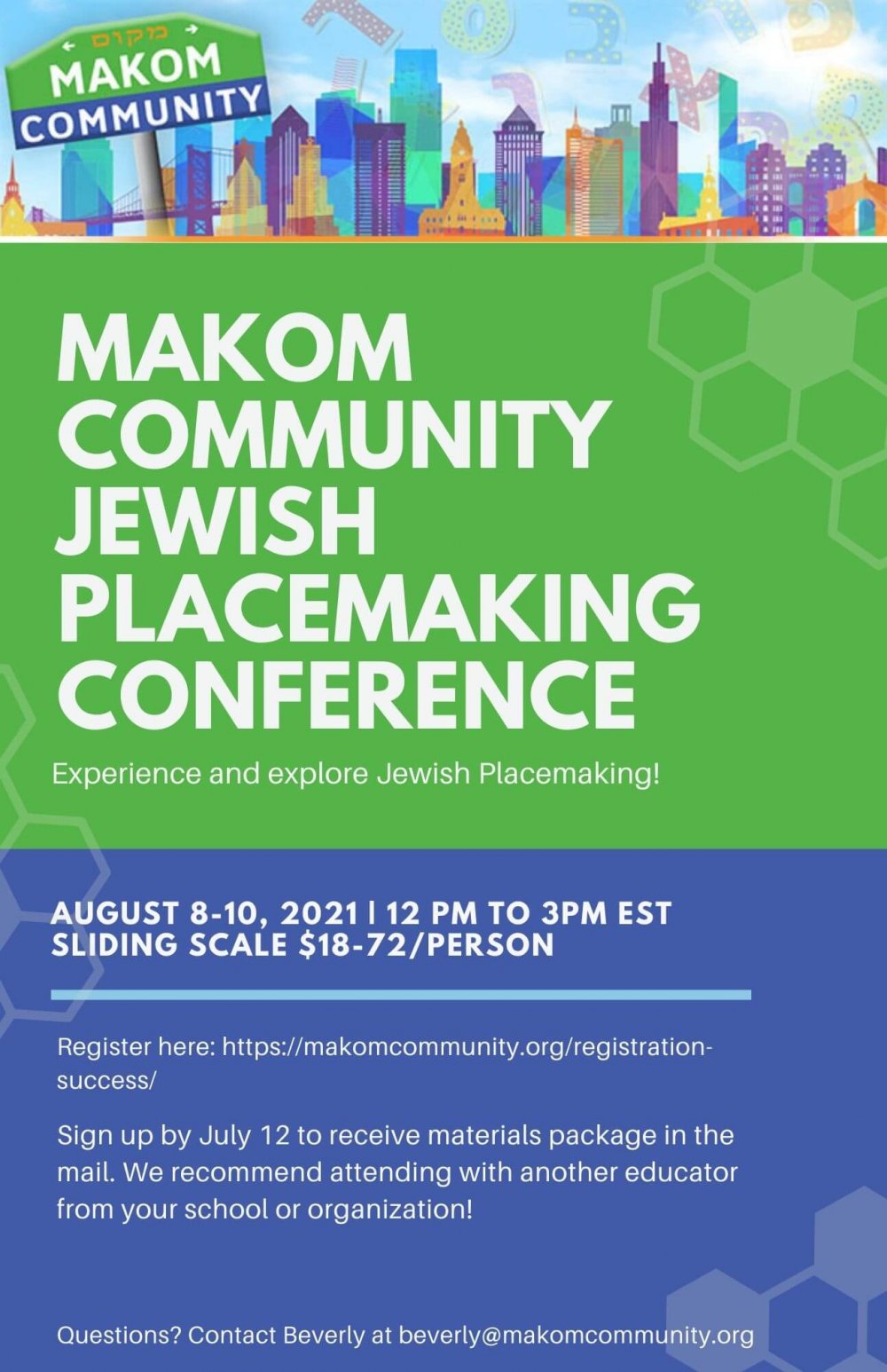 Join Makom Community to prepare yourself for a fabulous 21-22 school year! You'll get to reflect on your vision and goals for this year of teaching as we emerge from the pandemic and learn about how Makom Community's framework for Jewish Placemaking could delight and enrich your community. You'll gain new tools, have time to try them out, and meet other educators who are ready to experiment and reflect together.

When: August 8th-10th, 2021
Time:12pm – 3pm Eastern Daylight Time
Where: Zoom
Cost: Sliding Scale $18-72/person

Register by July 12th to receive a Care Package full of swag, building materials, and more!
Schedule Overview:
August 8th- Experience Jewish Placemaking
12:00pm: Opening Session
12:30pm: Mishpachot: Getting to Know You
1:00pm: Break
1:15pm: Experience Jewish Placemaking Text Study
2:00pm: Brit Building
2:30pm: Debrief First Experience with Jewish Placemaking
2:45pm: Growing questions for tomorrow
August 9th- Why Placemaking?
12:00pm: Placemaking Text Study
12:45pm: Why Placemaking?
1:00pm: Break
1:15pm: Relationship Building: Bedrock for Jewish Placemaking
2:00pm: Theory: How Do I Bring This Home?
2:30pm: Mishpachot: Making Change Happen at Home
August 10th- Social-Emotional and Spiritual Learning Models
12:00pm: Social-Emotional and Spiritual Learning Models
12:30pm: SESL Text Study
1:30pm: Break
1:45pm: Mishpachot: Bringing SESL to My Classroom
2:30pm: Closing


Session Descriptions:
Opening Session
Get to know Beverly, Gaby, and Makom Community. This session is a brief introduction to who we are, what we're doing, and why we think it's important and effective in our setting and in yours. You can expect to experience, reflect on, and learn the theory behind a variety of tools for teaching and learning while we're together.
Mishpachot – (Family Time)
It's hard to mimic the social aspects of an in-person conference on Zoom, but we hope these Mishpachot help. On each day of the conference, we'll split up into the same groups of folks with similar backgrounds for meet-and-greet activities and some processing time. The participants in your Mishpachah will help you problem solve and brainstorm practical ways to take this conference home.
Jewish Placemaking through Text Study
Experience a taste of Makom Community learning! On each day of the conference, we'll explore the story of Sulaam Yaakov (Yaakov's staircase) when Yaakov received his version of the brit (two-way promise) from God alongside some related commentaries. These sessions will be just like the learning we do with our Jewish Enrichment kiddos. You'll get to encounter Jewish Placemaking and social-emotional and spiritual learning and evaluate how those methods affect your learning experience.
Brit Building
We'll culminate our text study session on Sunday with a brit building activity. A brit is a promise between two or more groups or people. We'll come out of this session with an agreement of expectations for ourselves as conference participants and facilitators to help everyone participate fully, engage deeply, and make the most out of this conference experience.
Why Placemaking?
So what's the big deal with this placemaking stuff? After this session, you'll understand the outcomes Jewish Placemaking can lead to and how learners' agency comes into play in the process. We'll reflect on examples of how you will have already experienced those outcomes during the conference.
How Do I Bring This Home?
Making change happen is hard! This session will provide you with some tools and ideas for getting change started and keeping it going when you get back to your home communities.
Relationship Building: Bedrock for Jewish Placemaking
The process of building strong relationships begins before our learners ever set foot in our classrooms. What can we do during the intake process to start getting to know our learners and their families, especially as we emerge from the pandemic? Once our learners have arrived, how do we create a classroom or school culture of kids investing in each other and our community?
Social-Emotional and Spiritual Learning Models
At Makom Community, we use text study as a platform for helping our learners grow their skills for emotional intelligence and empathy. They practice identifying, naming, and regulating their feelings and responding to both their own emotional experiences and the experiences of characters in our text or friends in their classroom with curiosity and compassion. Learn how we can combine those skills into a spiritual practice or a way of connecting to something larger than ourselves.
For more information click here or contact Beverly Socher-Lerner at [email protected].