Makom Community has three, awesome, fun-filled weeks of August School's Out camp planned for your kiddos in both Center City and South Philly! Kids ages 4-10 are invited to join us the weeks of August 9, 16, and 23 for week-long, full camp days (8:30am-5:30pm) complete with arts and crafts, cooking projects, afternoons at the playground or splash pad, singing, and movement.
Read more to see what a typical schedule looks like and what to expect for our August camp weeks!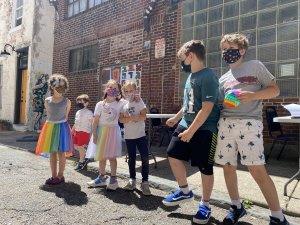 Typical Camp Schedule
8:30-9:00am – Drop off
Campers can be dropped off anytime between 8:30-9:00am. They will start their morning playing card games, board games, building with legos, and exploring the big idea of the week.
9:00-9:45am – Welcome and Snack
Morning snack is provided and campers and staff play movement games outside to wake up their bodies, get to know each other, and start their day!
10:00-11:30am – Introduction to the Day and Morning Activities
From creation and movement activities to building and painting, campers will be introduced to the big idea of the day followed by an activity. Campers might build a musical instrument, create a dance, facilitate a science experiment and so much more.
11:30-12:00pm – Lunch
Time to take a break and enjoy some lunch. Send food that works for your kiddo, and please give them a heads up that we will ask them not to share food with friends.
12:30-2:00pm Outdoor Play Time
Campers enjoy time at a local playground or splash pad.
2:00-2:30pm – Rest and Relaxation
After so much time outside, campers have the opportunity to rest and relax. Campers are typically found reading stories with an educator, building a fort to relax in, or finding some quiet space to play.
2:30-3:00- Afternoon Snack
Time to refuel their bodies before an afternoon of activities. We provide daily snacks like graham crackers and fruit, chips and salsa, etc. Allergies are always taken into account.
3:00-4:30pm – Afternoon Activities
Similar to the morning activities, using the big idea of the day campers engage in an art or creation project, acting and improv games, or a cooking project. If it is a Friday, campers will bake challah and welcome in Shabbat together.
4:30-5:00pm – Tefilah: Music and Movement
Together campers will reflect on the day, share awesome things they did, move their bodies, and sing.
5:00-5:30pm – L'hitraot
If it is a super hot day you might find kiddos enjoying some popsicles as campers pack up their things and get picked up! Campers are welcome to be picked up between 5:00-5:30pm.

What is happening at August camp this summer?
Read below about our big ideas and a snapshot of some of the activities we can't wait to do with your campers!
August 9-13: Music, Movement, & Creation
It's time to move your body! Create instruments, throw a dance party, and learn our Makom Community song. (Many of you collaborated to write it!)

Campers can expect to:

Explore different types of American, Jewish and Israeli music

Design and create musical instruments

Learn Israeli dancing

And have their very own "Battle of the Bands"
August 16-20:What Are We Made Of? Makom Community, Israel, and You
Join us for a week all about Israel! Learn about the Israeli artist

Hanoch Piven

, create a self-portrait, and explore how we are innovative at Makom Community.

Campers can expect to:

Participate in scavenger hunts around both Makom Community and a local park

Make salt dough for a topographic map of Israel

Reflect on important leaders in their communities and the characteristics that make up a good leader

And create self portraits with the talented Isareli artist, Hanoch Piven
August 23-27: Digging Into the World Around Us
The world is full of wonder, and we're here to explore and appreciate it all! Join us for a week full of science projects, cooking, and art.

Campers can expect to:

Create several science experiments

Make sun art using special paper that comes to life in the sun

Churn their own ice cream

And make a lava lamp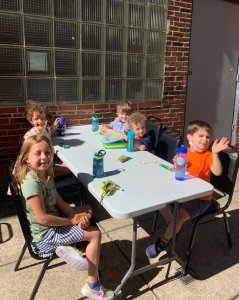 Have any questions? Ready to enroll?
Feel free to reach out to Amanda, Center City Director ([email protected]) or Leah, South Philly Director ([email protected]).
To enroll, click here.