Our November 11th School's Out Camp Day was full of fun and thoughtful learning.
In Center City, shaving cream art with marbled watercolor was named across the board as a highlight. The day also included making impressive clay statues, singing "Boom Chicka Boom" and "Herman the Worm" with verses created by the kids, and lots of playground time.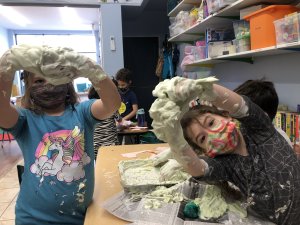 Amidst all of this, kids had opportunities to flex their teamwork and critical thinking skills, and–in keeping with Veteran's Day–to recognize different kinds of people who protect and support their communities. In the morning, drawing on their own experiences, kids started by writing a list on the whiteboard of such people, which included:
Firefighters.

Doctors.

Nurses.

Engineers.

Communications workers.

Climate summit representatives.

Teachers.

Parents.

Artists.

Cooks.

Janitors.

Plumbers.

Builders.

Police.

Night guards.

Mail carriers.

Sanitation workers.
Kids thought about which roles might interest them, and also had the chance to write cards for those people.
Then, we considered some challenging statements, and played ourselves on a spectrum in the room whether we agreed, disagreed, or were in the middle.
It's more important to help my neighbors than people who live far away.
The majority agreed, noting that "everyone is equally important," but a few noted that it is impossible to help everyone and sometimes easier to be sure you are making a positive impact when it comes to people closer to you.
When it comes to helping our communities, things that are difficult or take a lot of bravery to do matter more than things that are easy to do.
The majority again agreed, but a few noted that sometimes something easy can be super important.
It's important to me to be able to make my own choices about how to help my community, rather than having other people tell me what to do.
This one was more mixed, with some saying "it's a free country" and others noting that sometimes other people might have more information than you about what would be most helpful.
As a kid, it's just as possible for me to help my neighbors as for a grownup.
Everyone agreed with this one, noting "age doesn't matter".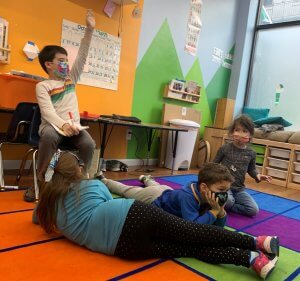 In the afternoon, we read a picture book about the Stonewall Inn (from the perspective of the building), which raised that some challenging questions that we explored in one final spectrum activity, which also connected back to the Veterans Day theme:
For grownups, it could sometimes be okay to hurt people or break things if it is necessary to protect your neighbors.
This one was the most divisive. Kids considered the feelings of the individual people who might get hurt, the importance of being kind, and some felt clearly that it would never be okay, while others considered the necessity of self-defense and times in history where people expressing themselves through the systems available to them wasn't enough.
After the book, kids successfully completed a team challenge of walking all the way across the room in a line while their feet were always touching their neighbors'. Kids tried different strategies, communicated their needs to the group, and came up with different ideas, before ending in triumph, and then moving toward tefilah to end the day.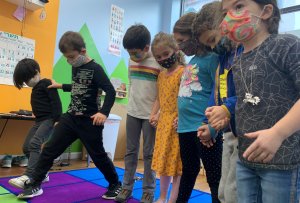 South Philly started our day by considering what Veterans Day is and why there is a day marked to celebrate Veterans. We discussed what it means to help our community and processed the various ways one can support both neighbors and strangers in their community.
Kiddos brainstormed ways to help neighbors and strangers in our community:
My dad picks up trash in our community!

My dad works at a school.

Therapists help us.

Crossing guards keep us safe.

Doctors help people be healthy.

Drive a trash truck or pickup compost.

Drive a school bus.

Being a scientist.

Talk to my dad.
We realized that many of our parents actually have job's that contribute positively to the community!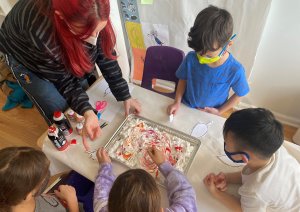 Kiddos brainstormed how help is needed more globally:
Help stop war.

Mask factory workers help us during COVID.

People who give shots help for COVID.

Air traffic control workers make sure everyone is safe in airplanes.
Once we finished discussing the various roles which help our community, students wrote thank you cards to folks we knew in those roles.
We wrote cards to:
A doctor.

A therapist.

A Teacher.

A crossing guard.

A dad who picks up trash.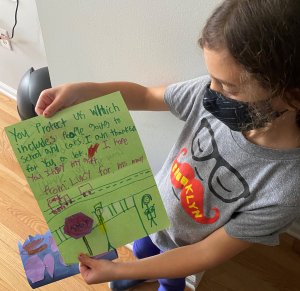 After creating heartfelt cards, students dropped their letters in the mailbox. We also discussed what it means to monumentalize something and decided what we think deserves to be honored with a monument. Then learners designed and created playdough monuments which include:
Food to represent people who deliver food to those who need it.

A BLM fist to honor protestors.

People to honor protestors.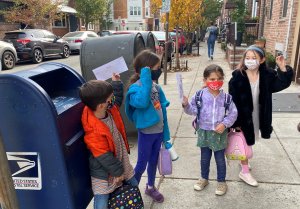 We had such an awesome and fun-filled day with your kiddo(s) and we are looking forward to seeing them again! Click here to enroll in December's Magical Book Week School's Out Camp: https://makomcommunity.org/enroll/
.