This Summer, not only will campers get a taste of the art, cuisine, and traditions of Jews around the world but we will deep dive into the food, sounds, images, and Jewish history of the City of Brotherly Love.
Join us from 8:30am-4pm on one or more of these weeks:
June 15th – 17th, $225 3-day week (Center City Location)
June 20th – 24th, $375 for the week (Center City Location)
August 15th – 19th, $450 per week (South Philly Location)
August 22nd – 26th, $450 per week (South Philly Location)
Please Note: select the 2023 season from the drop down options on CampMinder when enrolling for camp.
Questions? Contact Amanda, Center City Director, at amanda@makomcommunity.org, or Ash, Camp Coordinator, at ash@makomcommunity.org.
Click here to enroll!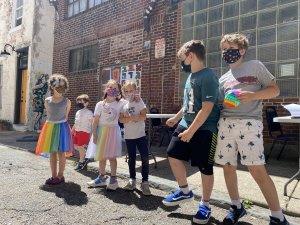 June 15th – 17th:
Jews Around the World: From Israel to the diaspora, this week will focus on art, culture, food, and more connected to learning about the Jewish people today. Learners will expand our understanding of Jewish culture and experience, exploring how Jewish life is lived in places other than our own.

Wednesday: Where we're from: from Israel, to Europe, to the U.S., kids will reflect on the different parts of the global Jewish community that we are connected to. Activities might include a few things that are similar and a few things that are regionally distinct.

Thursday: From Ethiopia to Argentina and Mexico City, activities and learning related to traditions and leaders from the parts of the Jewish community we don't often get to talk about.

Friday: Shabbat around the world- learning about and trying on different Shabbat traditions
June 20th-24th:
Festival Week: June has long been a month of festivals in Philadelphia, from Pride to the Odunde festival. During this week of camp, we'll learn about some of these and what they represent, and do lots of related crafts and projects; expect lots of rainbows. We'll reflect on what each of these festivals mean to us and how they can be in conversation with ideas from Jewish wisdom..

Monday: Juneteenth: Juneteenth has a long history as a time of festivals and gatherings, and only recently became an official holiday. Are there any similarities to festivals that come up in Judaism?

Tuesday: Pride: In addition to lots of rainbows activities and projects, we'll think about the parts of ourselves that we feel proud of, learn about the historical context and significance of Pride, and reflect on the ways Makom strives to be a place we can all be proud of who we are becoming.

Wednesday: Odunde: Philadelphia's Odunde festival is the largest African American street festival in the United States, and recognizes African, Afro-Carribean, and African American cultures. We will appreciate this as a way to celebrate culture and to celebrate the Jews of Color in our community.

Thursday & Friday: We'll learn about other Jewish festivals and carnivals, get to share what different experiences we've had in them, and try out some games and activities from them.

Friday: Now that we've looked at a few different kinds of festivals, kids can imagine their own. What would it be celebrating? What traditions would be have? Lids might work in groups to build a model of what their festival would look like, and get to act out/ try one of their new festival traditions.
August Week 15th – 19th:
Animal Week:

Everything from cats (lots of cats!) to dinosaurs to creepy/crawly animals. Think cooking activities like worms and dirt, and lots of arts and crafts projects on everything from butterflies to spider webs. No doubt spotted lanternfly squishing will occur. We'll also reflect on how animals come up in Jewish stories.

Monday: Cat day: A day of games and activities with connections to the favorite animal of many Makom learners!

Tuesday: Insect day: A day of crafts, treats and activities dedicated to the creepy and crawly.

Wednesday: Legendary Animals: From Unicorns and dragons to creatures we can dream up ourselves.

Field trip day

Friday: Biblical Animals: Where else do animals come up in Jewish stories? How do the way animals are discussed in Jewish texts line up–or not–with the way we think about animals?
August Week 22nd – 26th:
Philadelphia Week:

A week of activities related to our city. Cooking projects might include variations on water ice or pretzels (pretzel-shaped challah?) We can freeze-dance to music of Philadelphia artists. Arts, crafts, and building projects inspired by the sights of the neighborhoods of Philadelphia. We'll connect to past and current Jewish Enrichment themes, for example, "Awe and Wonder" and "Love Your Neighbor". We will consider Philadelphia's place in our lives, and Philadelphia's place in the larger world.

Monday: Sounds of Philadelphia: From urban soundscapes of our neighborhoods, to the music of greats like Marion Anderson, Rosetta Tharpe, or The Roots. Can include dancing and listening, and also making our own music, and comparing the ways spirit and God are framed by musicians like Tharpe or Charles Tindley versus the way we see them in Jewish culture.

Tuesday: Images of Philadelphia. Recognizing Philadelphias' arts and murals, and doing our own arts & crafts projects inspired by them.

Wednesday: Tastes of Philadelphia. Cooking projects or food-related crafts, with reflection on the people and communities where they come from. Can include traditional "Philly foods" like water ice, reading stories in which different foods come up, and activities connected to other foods (like sensory activities with rice) that we eat. (However, when using food for non-eating purposes, I think it will be worth finding ways to discuss how we still want to honor it and where it came from, recognizing that we are playing with food even while many people in Philadelphia don't have enough to eat, and consider Jewish traditions around honoring and respecting the holiness of foods.)

Thursday: field trip day (see below)

Friday: Places of Philadelphia. Building and art projects and reflections on the places that are most special or holy to us.

Sample Schedule:
8:30-9:00am – Drop off:
Campers can be dropped off anytime between 8:30-9:00am. We will start their morning with board games, legos, and art.
9:30am – Welcome and Snack:
We provide snack. Campers and staff take some time to get to know each other, and maybe sing a song!
10:00am – Core Morning Activities:
Each day, we'll start off with activities connected to the day theme. We'll draw connections with our lives, communities, and Jewish cultural themes.
11:00am — Elective Block:
We'll give kids a choice of what to do next, often including building, sensory, art, and reading options.
11:45am – Lunch:
Time to take a break and enjoy some lunch outside. Send food that works for your kiddos. Remember a water bottle.
12:30pm — Outdoor Play Time:
We will enjoy play time at a local playground.
1:30pm – Rest and Relaxation:
After so much time outside and an action-packed schedule, campers can rest and relax. Campers at Makom are typically found during this time reading stories with an educator, building a fort to relax in, or finding some quiet space to play.
2:00pm — Afternoon Snack:
Time to refuel our bodies before an afternoon of activities. We provide daily snacks like graham crackers and fruit, chips and salsa, etc. Allergies are always taken into account.
2:30pm — Afternoon Group Activities:
This hour will include some energizer games, and often another group craft, science experiment, or book. On Friday, this will include all of our Shabbat activities, including challah braiding, bag decorating, and candle lighting, and reflecting on our week together.
3:30pm – Tefilah: Prayer, Music, and Movement:
Together we will reflect on the day, share awesome things we did, move our bodies, and engage with Jewish prayer.
4:00pm – Lehitraot:
Thanks for a great day! Campers are picked up at 4:00 pm.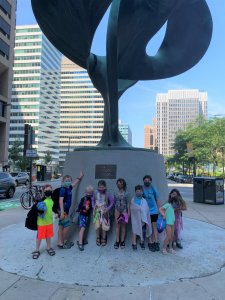 Questions? Contact Amanda, Center City Director, at amanda@makomcommunity.org, or Ash, Camp Coordinator, at ash@makomcommunity.org.
Click here to enroll!