Whether we like it or not, COVID has forced educators to think outside the traditional classroom to bring students together for community building and learning. And it's been hard work! We opened our January Jewish Placemaking Accelerator Seminar by asking participants to brainstorm some of the challenges and opportunities presented by a variety of learning spaces: indoors, outdoors, shared, and virtual.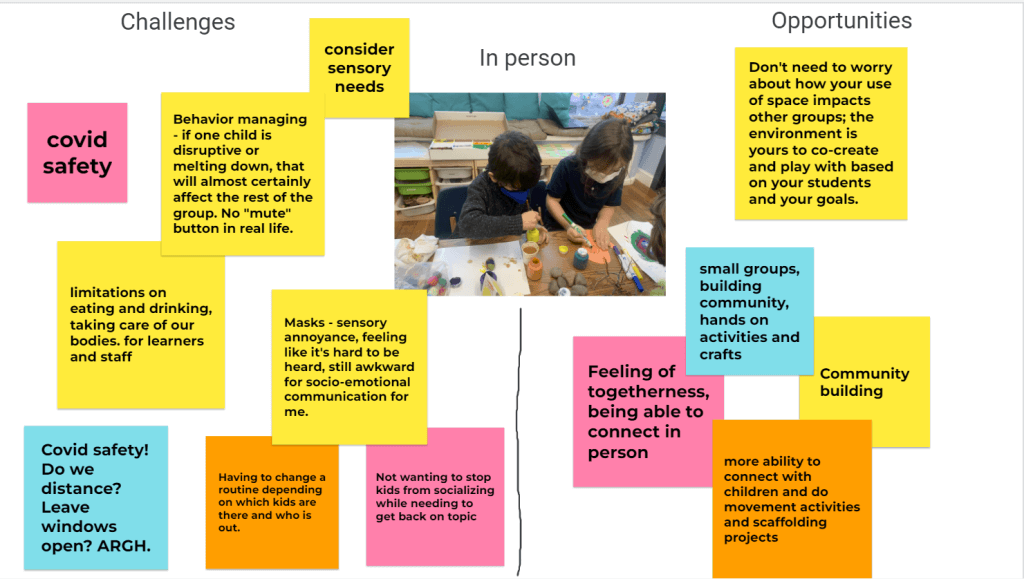 Despite the challenges, we think Jewish Placemaking is applicable in any learning environment. What does Jewish Placemaking offer? Here's what we think:
Teachers bring nonviolent communication to their classes which allows learners to experience more agency and build towards self-efficacy.

Teachers bring opportunities for co-creating space with their learners, who in turn experience and practice the process of placemaking.

Teachers bring Jewish wisdom through text which gives learners opportunities for meaning making and application.
Together, the Accelerator participants brainstormed some examples of these principles in action.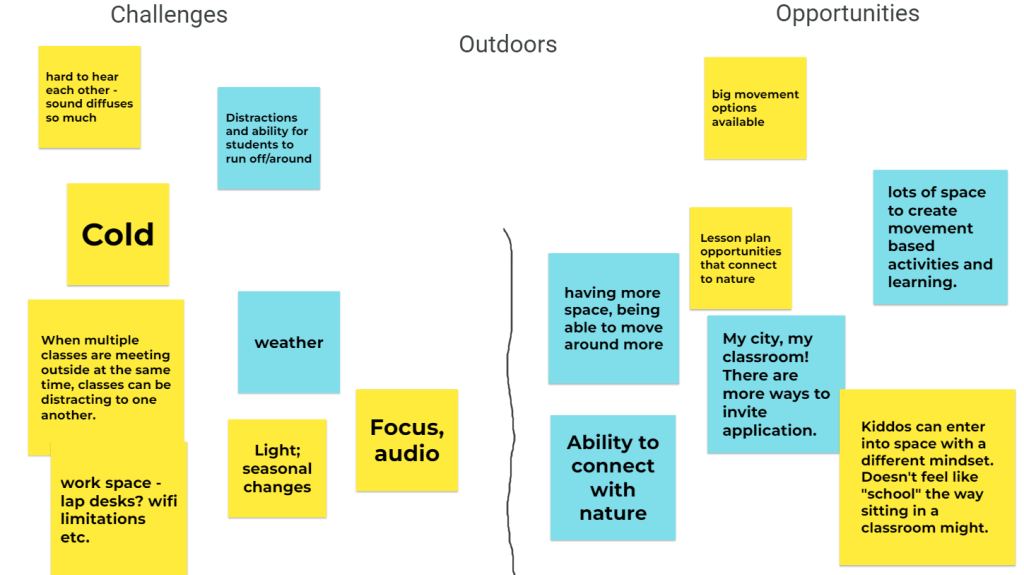 How does nonviolent communication build toward self-efficacy? How can that show up in the classroom?
Responding to unwanted behaviors with "Hey, what's going on?" rather than "Don't do that!" This shift invites collaboration and co-creation of experience.

Creating lesson plans with space for learners to reflect on their own or a story character's emotional states to access an understanding of unmet needs.

One time I had a student struggling with emotional regulation who asked to go to the sanctuary. I told them that if we were in the sanctuary, we would need to be productive. So the kid chose to reorganize the siddurim which gave them an opportunity to self-regulate and also unpack what each book was and what we use them for.

Having a third teacher in my class is finally allowing us to meet a challenging kiddo where he's at without approaching him as though he's the problem. We can use smaller groups to lessen stimuli for him and give him jobs and responsibilities to redirect him away from disruptive behavior that often accompanies transition moments.

Offering opportunities for kiddos to direct their learning rather than just going where the educator demands they go. In preparation for a 5th grade class service, I let the students take responsibility for what they wanted to do – asking for materials, managing group dynamics, choosing projects, etc. They had a chance to really own their learning.

I start class with my students setting intentions based on how they're feeling. The feelings wheel really helped them articulate beyond "tired."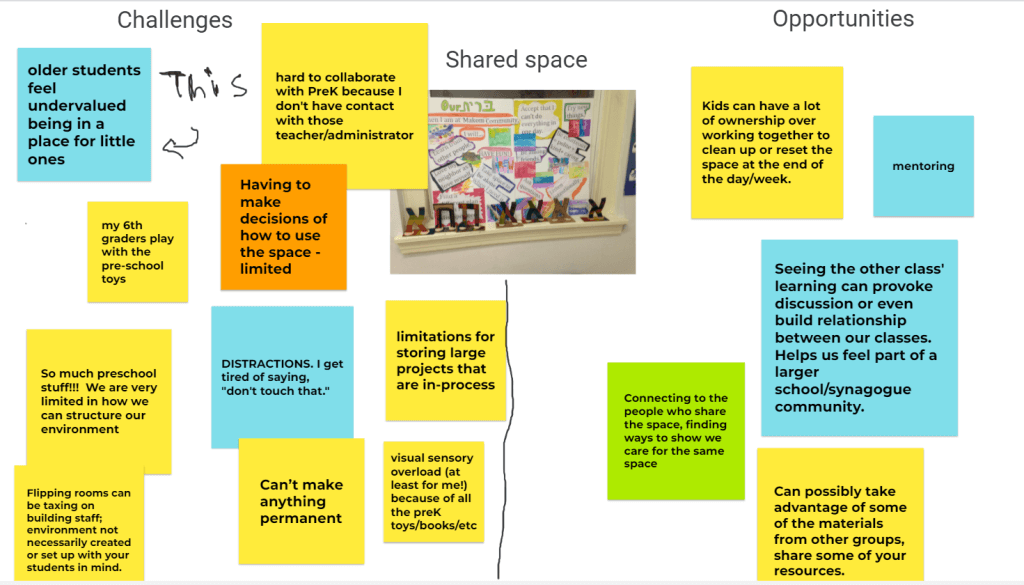 How does co-created space build toward placemaking?
We started writing messages to other kids and teachers that share our classroom.

Changing the space becomes a connective, community building activity.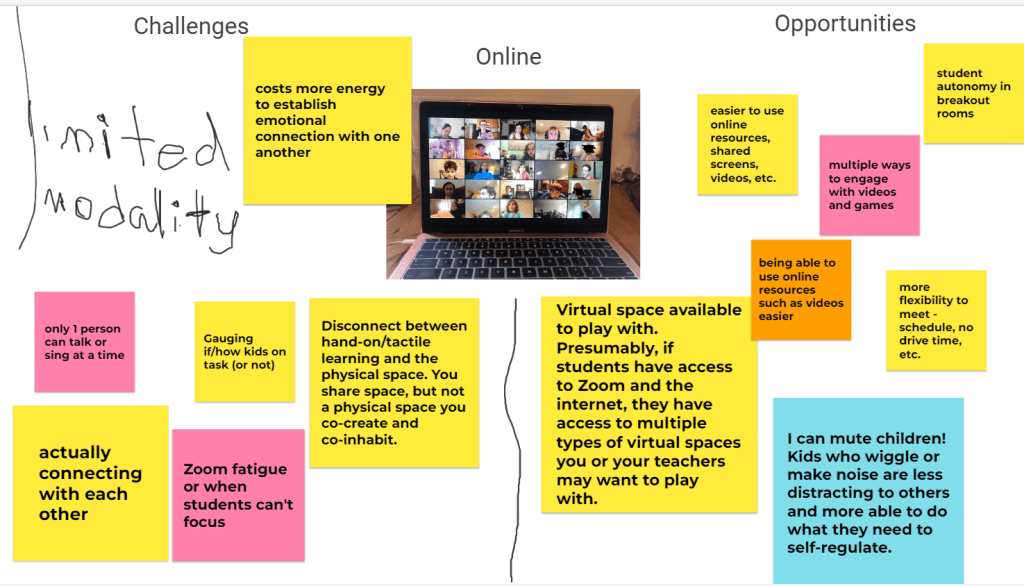 How does encountering Jewish wisdom as text build towards meaning making?
My 8th and 9th graders are working on a project about the First and Second Temples. They aren't just reporting information, but imagining why it's relevant to them today. They're making connections to living through COVID and unprecedented moments of turmoil. They're imagining interviews with people from Temple times to practice perspective taking and empathy work.

Starting with characters in the text to do meaning making and feelings work is a good scaffolding point before asking kids to bring the feelings work to themselves.
We posited that all of these principles can be applied to any type of classroom – in person, virtual, outdoor, shared, etc. Participants then had an opportunity to create lesson plans together in small groups trying this out. Each group had the same big idea, enduring understanding, goals, and text. One group each worked on a lesson plan for a shared space, a zoom space, and an indoor space. They focused on bringing the core tenets of Jewish placemaking to the lessons. Participants concluded that yes, these same principles can be applied in different ways in each of these spaces. They left feeling energized and more prepared to tackle the challenges and work with the opportunities presented in their particular classrooms.