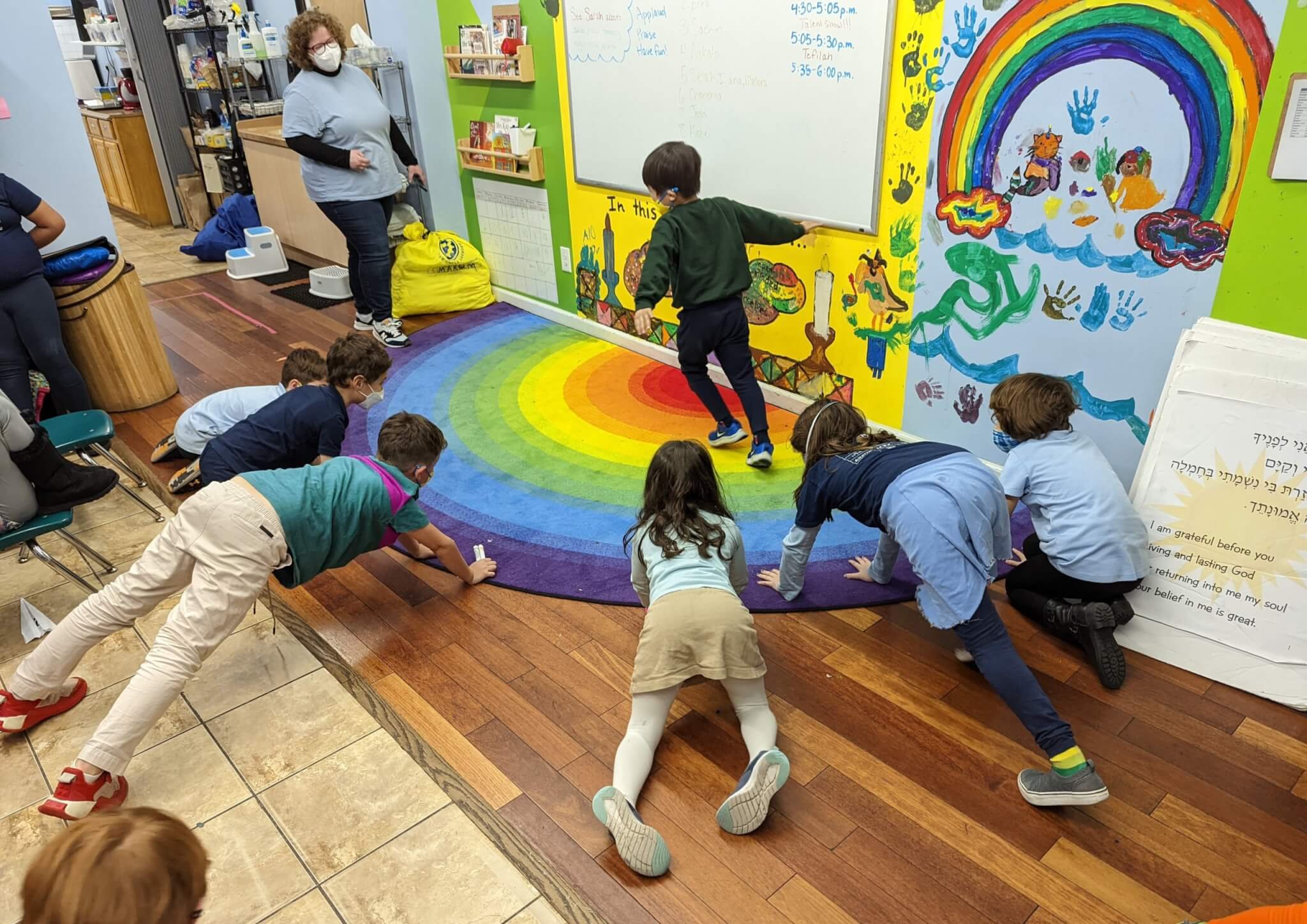 What an amazing way to jump back into Makom Community learning to start 2023! The Garinim (PreK and K learners) and Shorashim (1st and 2nd graders) in Center City spent two afternoons this week preparing for and performing in a talent show. We couldn't be more proud of how it went!
We prepared to showcase our talents. Kiddos spent the afternoon choosing their acts and practicing. Some teamed up with a friend or two, and some decided to perform solo. Teachers circulated to help the students come up with their various acts and make sure everyone had all the supplies they needed. On the day of, we took a few minutes for final preparations, and then it was showtime!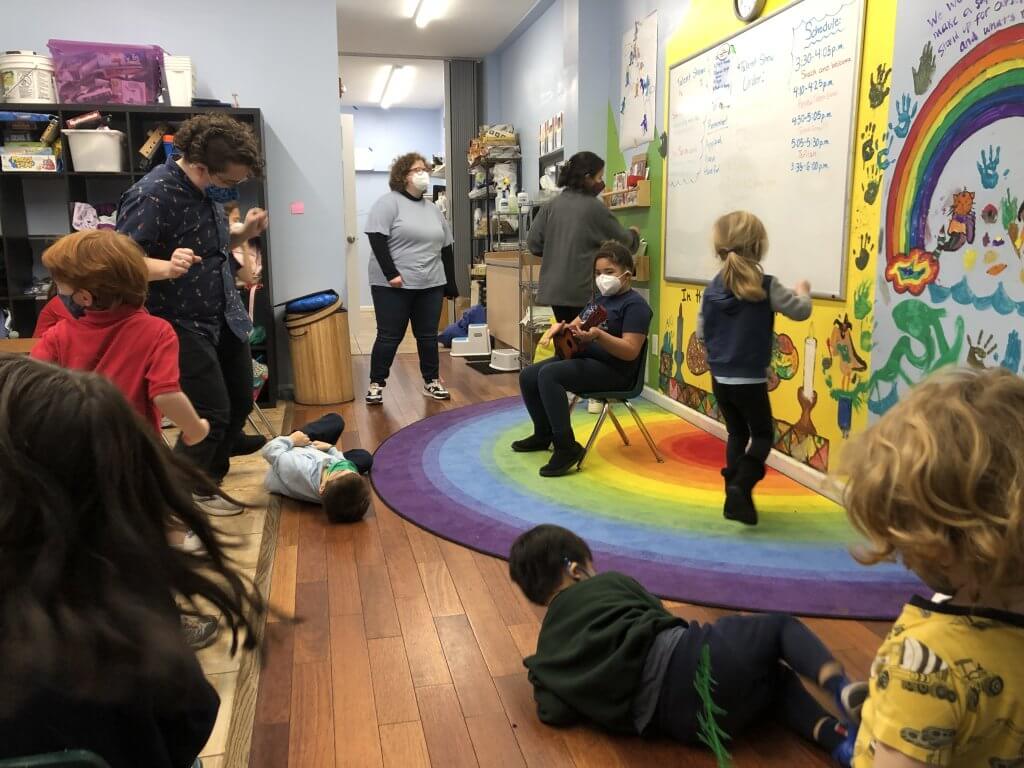 We learned that Makom Community kiddos have an incredible array of talents that they are excited to show off to each other: dynamic dance moves, dramatic improv, magic tricks with cards and illusion and mischief, singing and instrument playing, and much more! Since we're in the middle of a unit about Hallel – Praise, we made sure to include lots of praise in the talent show process. After each act, we gave a raucous round of applause. Then two or three audience members had an opportunity to raise their hands and offer a compliment or comment of praise to the performer(s). Here are some of those comments:
I liked your dancing because no one else in my class is able to dance like that.

I like how your card trick was also a story.

I love the song you chose and also think you were so brave for singing it by yourself to all of us.

I like that you did magic for all of us to freeze — that's so fun!

I like that I have no idea how you performed that magic trick!

I like the way you set up your magic to be dramatic and exciting.
Everyone was so kind and supportive, listening and watching attentively, being enthusiastic and encouraging. One kiddo brought a ukelele from home because she was so excited to play for everyone. During her act, she offered for folks to get up and dance if they wanted to, and most of the audience sprang up to move and groove around to her playing. It was heartwarming to see kiddos shower the performer with overwhelming support and chesed (kindness). What a wonderful way to celebrate her as part of our community!
For another act, one of our PreK students had a feather that he used to make mischief magic. He would point the feather at the audience and shout "Freeze!" or "Your heads are so heavy they fall on the table!" and the whole audience would dutifully follow his commands. It was truly magical.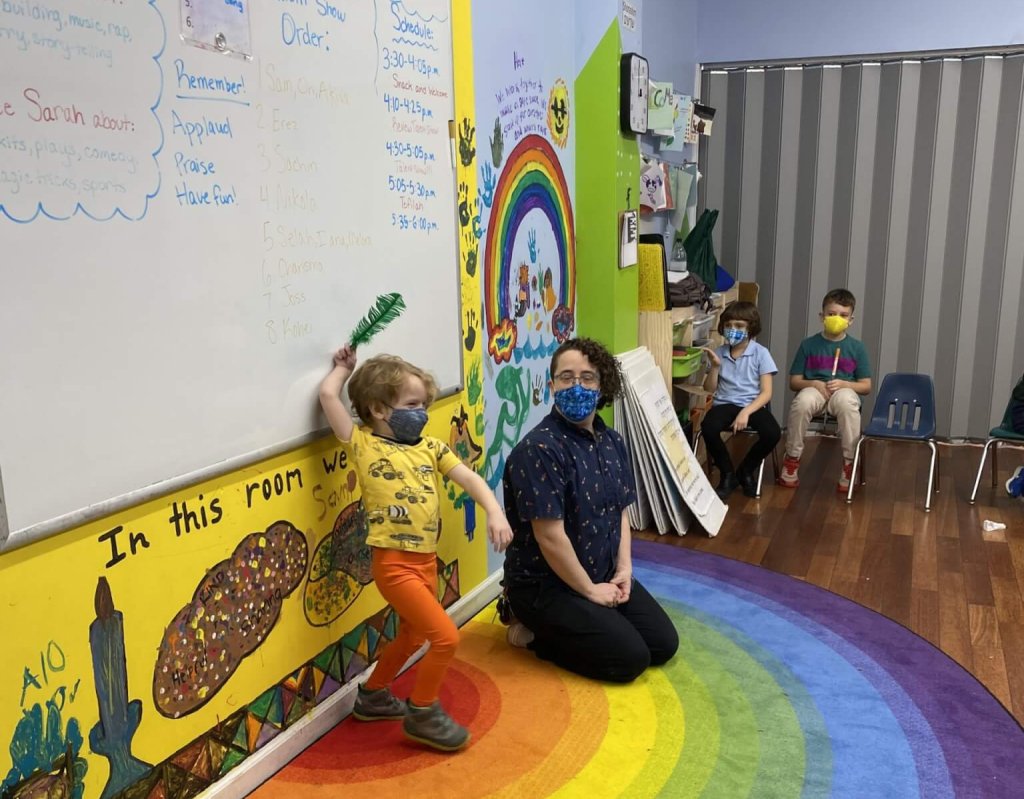 One of our favorite moments happened during the final act, a dance performance. The kiddo's dance moves were so energetic that the carpet kept sliding around under his feet. One student in the audience had a solution: he jumped up and knelt in front of the edge of the carpet to hold it in place. Soon, all the other kiddos in the audience followed his lead, and the performer finished his dance in a semicircle of support from his peers.
We love that this supportive and encouraging energy is launching us into 2023. Here's to a year of praise!