How good it is when we come together.
What greater joy is there to mark a new point in this strange year than with a moment where we can come together in person for some learning? It brings a smile to every one of our cohort's faces when they get to share what they've learned and created with others.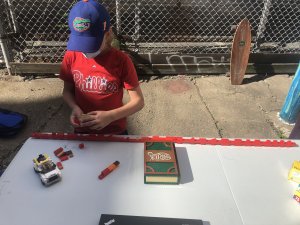 We've done so much fabulous work on every piece of these projects- putting these finishing touches on something that came from such a personal place, prepping for it, reviewing all the pieces, and then the day finally arrived for us to present it to the grownups in our lives.
Community is a word we use so often here. So it was especially sweet to come together to celebrate the accomplishments and journey of our Rosh Pinah project on Midrash. It was magical to see parents' eyes light up as they saw the hard work in their childrens' presentations, to have everyone study Midrash with Beverly, to share through our presentations the wisdom we studied and created. Here are some of the thoughts and wisdom our BMitzvah cohort and their families shared during our Rosh Pinah showcase.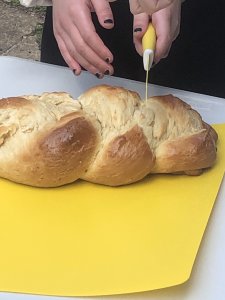 This year has taught us many lessons. When we studied kohelet (Ecclesiastes) with Beverly, we thought about the idea of casting away riches for the sake of keeping ourselves safe. We reflected on how we value money and trust.
I think it tells us that I'd rather have lives than money
If there's an issue, don't put it to the side- deal with it head on

Reminded me that I might have some trust issues as we come out of Covid.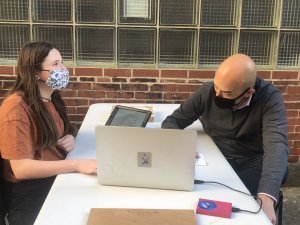 We reflected on the time we are in. What are the things we look forward to casting away like the people in the story cast the treasure into the sea for their own safety?
I'm ready to cast away loneliness!

I think it might be cool to write some moments that we want to be done with and physically throw them away, like into water.

I'm ready to cast away wearing a mask! I don't want to have to socially distance myself to get some fresh air.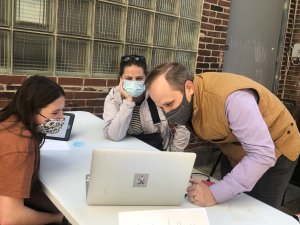 When it comes to the way that we adjusted to changing situations like the one in the text, what did you do to adjust? How have you adjusted in the past year?
I adjusted and just did it.

Staying connected was super important this year.

'I now don't feel like there is time to keep silent.' 'You prefer silence when I'm telling you what you did wrong!'

I had to delineate where I do work. It was difficult to adjust the way that I worked in one place and lived in it too!
We reflected on the moments this year that brought us joy, and the ones that showed us that change comes in a lot of different varieties:
Schedule changes were all over this year!

In person things are shifted because it feels like the teachers come to us. We don't have to go to them and that changed the way we learn.

I think we're going to look back on this time and really value and think about the time that we spent with our families.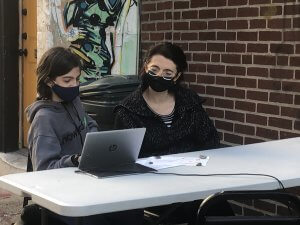 During our presentations, conversations hit some deep truths and asked some insightful questions:
Everyone had a role in the day of peace
'Taking a birthright made them hate each other for so long' 'I've seen more for less'
Ruth and Naomi went through so much together. It was inspiring to me
In all, a lovely series of weeks of learning, creativity and insight lead to such a wonderful moment as a kehilah (community). It was so exciting to welcome these types of moments back into our lives and to see us all learn together again. May it be the first of many!