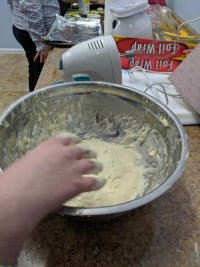 "This doesn't look at all like what it's supposed to look like!"
"It's too thick." "It's too thin." "I don't know what the batter is supposed to look like."
"Why don't you try this?"
Nothing is more stressful than things not going to plan in the kitchen. Our BMitzvah Rosh Pinah (cornerstone) projects test the limits of our ability to problem solve, plan, and use our creativity. Being in the kitchen for our Cooking & Diversity project was no exception.
Each group picked an ingredient or Jewish holiday to focus on and built a meal incorporating food from different places. Morocco, Czechoslovakia, Spain– Jews live in so many places! We learned about the different cultures of Ashkenazi, Sephardi, and Mizrahi Jews through reading about their recipes. Jews in Spain had to hide their Jewish identity for years. They found ingenious ways of tricking people into thinking they were actually Catholic, like making French Toast look like pork chops!
Once we got into the kitchen is when a new kind of learning began.
Zoey's sfenj (Moroccan donut) dough was much too sticky to make donut holes according to the complicated process in her recipe. She decided to make donut holes instead, which came out delicious! It's very hard to stay calm when frying in hot oil, but Zoey got the hang of it immediately!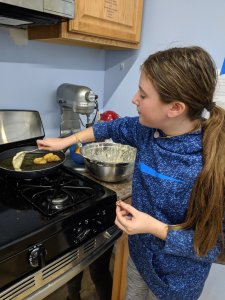 Ronia also had some dough problems with her triple chocolate hamantaschen. After chilling overnight, the dough was too sticky to shape into cookies. I was at a loss as I realized we probably should have chilled in the freezer instead of the fridge (cue dramatic baking show music). But Leo came to the rescue suggesting we double-bake them and shape in between. It worked like a charm!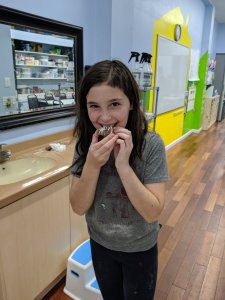 Leo and Zahdi took a chance on a recipe none of us had heard of before: Czech bread dumplings. Turns out this recipe, which only takes a few ingredients, has a lot of steps! We saw their bread transform into bread crumbs, baked dough, balls filled with parsley and onion, and finally (after boiling in hot water), bread dumplings!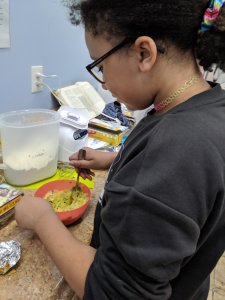 Drew and Remi cooked for a Passover seder, a holiday where food takes center stage in our ritual. They made an Ashkenazi classic, matza ball soup! We all found that tasting the matza balls connected us with our memories of Passovers past. This reminded us how important food is to building memories and connection to tradition.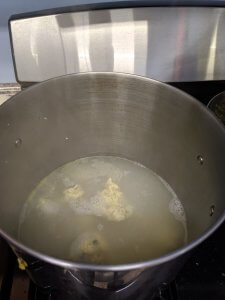 Feel free to try these recipes out at home or use some of the resources we used (listed below) to find new recipes from corners of the Jewish world you might not have experienced before!
Resources: