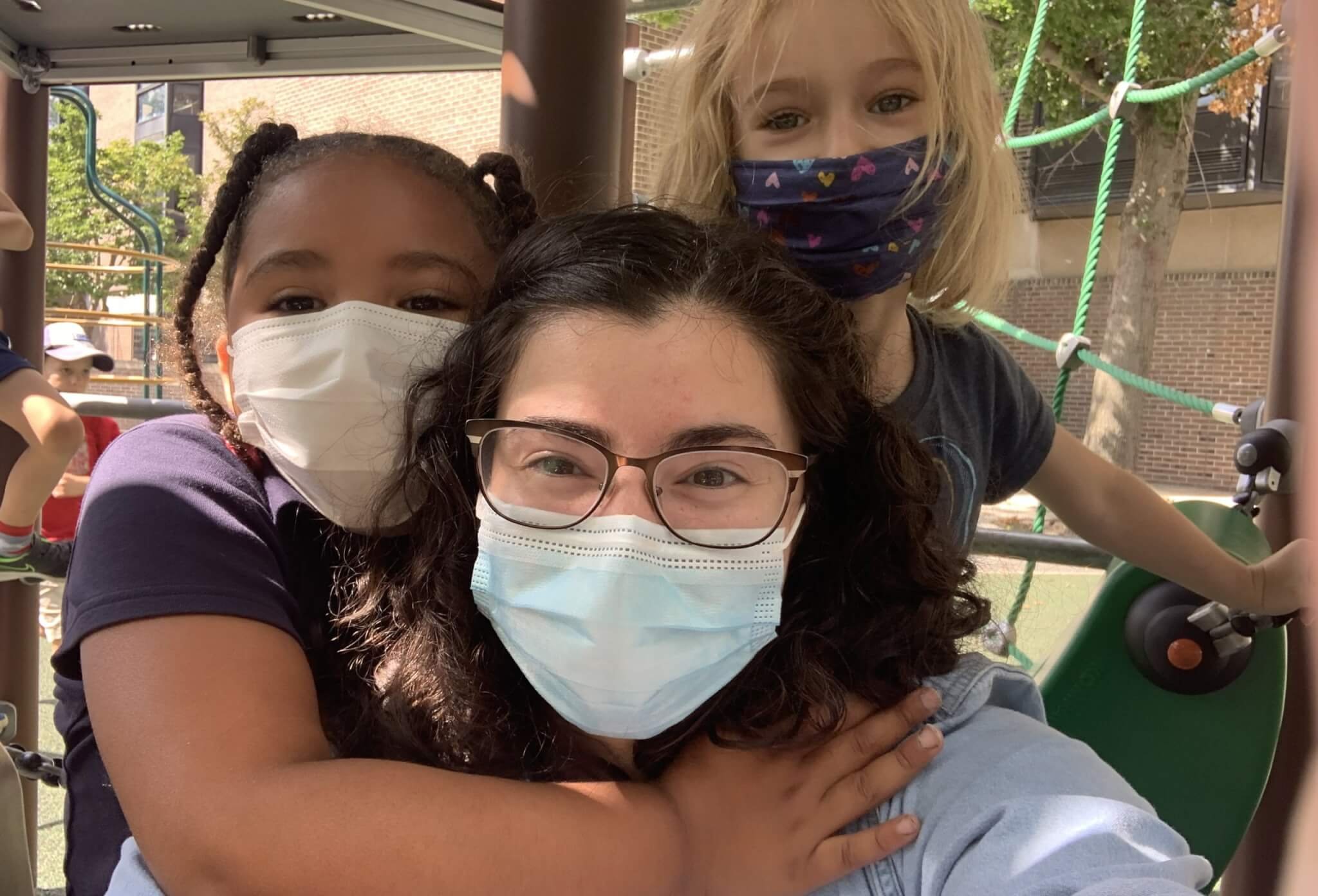 Welcome back to Jewish Enrichment at Makom Community! What a fabulous (and also semi crazy) first week of learning and playing with your kiddos. We started off our week with some name games, get-to-know-you-ing, and conversations about how to keep ourselves and each other safe and happy. We also started learning about the upcoming holiday, Rosh HaShanah (Jewish New Year). Each day while eating snacks, we had the opportunity to hear the shofar.
Garinim wondered together who the blast of the shofar is for – is it so God can hear us praying or so fellow humans can hear us praying? We listed the names of the shofar blasts and took turns holding it. During Tefilah, we shared dance moves while singing the tefilah (prayer), Modeh Ani, practiced our Hebrew numbers, and talked about the concept of God in the Jewish tradition, with students' personal interpretation on how God shows up amongst us or not.
How would you react if you suddenly heard a shofar blast?
Surprised face

Maybe a little scared

Turn to look at it
We also reflected on times when time moved extra slow or extra fast – what was going on? Was it a new or old experience? Were we paying attention? One kiddo told us about being on a boat for five hours and yet it felt like 5 minutes because it was so interesting and fun. We used building and drawing materials to share our Ashrei (happy) stories with each other and practiced writing alef with the different vowel sounds.
Some Ashrei stories we built and shared:
Riding my first ever roller coaster in Amsterdam with my dad and sister – three times!

Going down a slide with my brother.

Playing on a seesaw, swing, and dance place in Vermont.
What are ways we might celebrate Rosh Hashanah?
Playing with my five cousins.

Thinking about happy beginnings with my family.

Cuddling with my mom and sister.
What are some good choices you've made recently? Choices that have been keeping you or other people safe or have been kind and helpful?
Waiting at the corner for a grownup to catch up with me when I'm walking or biking.

Cheering someone up when they're feeling sad.

I've been keeping my mask on when I'm inside with other people.
Shorashim spent the week introducing themselves, creating and showing off some cool poses in a name game, and discussing the upcoming Jewish holiday. We listened to the shofar, and reflected on a piece of Jewish text that invites us to wake up with the new year, and consider what paths we can take in the year ahead.
Things that Shorashim want to do in the New Year:
Gain trust of my parents to use the stove/oven

Learn new swimming strokes, and swim to the docks in New Hampshire (we have multiple kids who want to work on their swimming this year!)

Look like a vampire and express myself

Be famous
We also thought about what it means to "wake up," and how to be present in different parts of our lives. We discussed how the shofar is like an alarm, and considered different things that kiddos would like an alarm for to remember important things in their lives. Suggestions ranged from waking up, to watering the plants, to remembering to feed the stuffed animals, to remembering to think of the memory of a loved-one. The kiddos then had an opportunity to make their own alarms and what sounds they would make and the different functions it would have.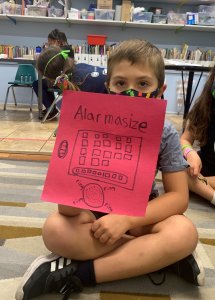 "The Alarmasize has an alarm for everything and it makes a very high pitched noise"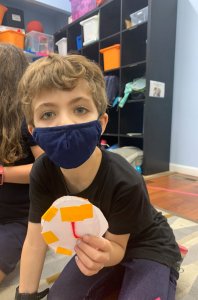 "Instead of my parents coming in to wake me, they can flap this near my face to wake me up. It makes a very gentle noise"
Nitzanim had a blast getting to know each other during the first week of Jewish Enrichment! After getting to know each other we headed outside to listen to Gaby blow the shofar. After hearing the blasts, we reflected about what other "shofars" we have in our daily lives. One kiddo shared that an alarm clock or parents can wake us up in the morning, while another shared that siblings can act as great alarm clocks as well. As we return to a year at Makom, learners did a beautiful job sharing how they feel about singing and mastering tefilah. We discussed how singing can be nerve-racking in front of others, but singing together can also feel good and bring us closer as a community!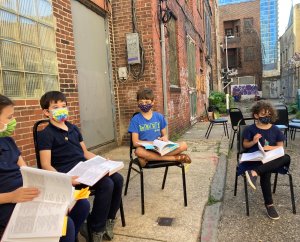 We continued our discussion about Rosh Hashanah and what it might look like to wake up not only for the new year, but even in moments we're not fully present. One kiddo made a great connection to a time she felt zoned out during music class and a teacher calling on her brought her back to the moment. We reviewed the Hebrew alphabet with a lively game of Hebrew charades.
Nitzanim also discussed how we can show love to our community in the new year and decided art would be a great way to do that! We headed to the front of Makom with a box of chalk and drew pictures and wrote messages for any neighbors on the street to see and feel welcomed and loved.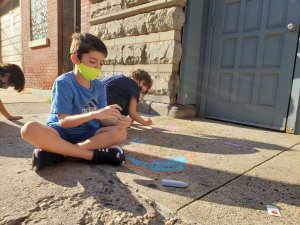 Wow! These kiddos are rockstars. We can't wait to see the awesome connections your kiddos will make next week! We hope you have a safe and happy new year! L'Shana Tova!