This week we had the pleasure of being joined by Center City Makom educator Gaby Marantz. Upon meeting Gaby, one of our learners remarked, "Does everyone who works at Makom have dyed hair?" While brightly colored hair is certainly not a requirement for employment, we love that our team brings their full self to Makom with diverse backgrounds and perspectives. This is one way we are able to invite kiddos to show up as their full authentic selves.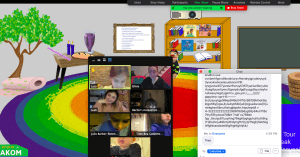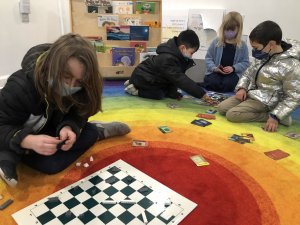 Our learners proudly showed Gaby our space, pointing out elements they have personalized such as the Nitzanim room (grades 1-4) mural that we started work on at camp last week. Kiddos are excited to see their vision, which they have dreamt of since the very first days of Makom, come to fruition. Nitzanim learners have been vocal about their desire to have a personalized space of their own and are excited to be realizing their ideas.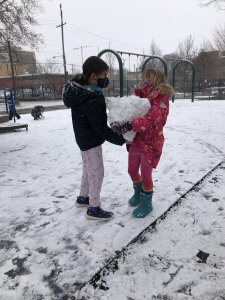 Our learners enthusiastically pointed out their favorite games in the classroom, especially a recent hit, a strategy game called Forbidden Island. Even our youngest learners took turns explaining the multi-step rules of this in-depth fantasy game. Perhaps there will be a Forbidden Island tournament in the future.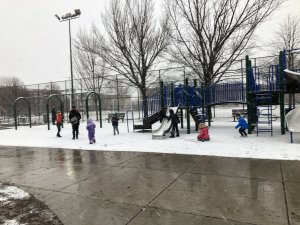 During Tefillah: Prayer, Music, and Movement, our students had a blast using their whole bodies to count misparim (numbers). One of our Garinim (kindergarten) students really took us to gym class, instructing the group to count by doing squats, donkey kicks, and toe taps. At the request of one of our learners, we reached our highest mispar yet, Arba'ah Elafim. In counting this mispar they had us do four thousand spin jumps– don't worry, we counted by thousands.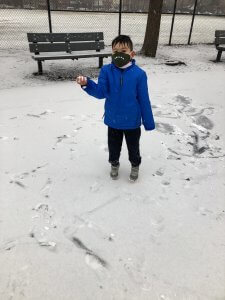 Although this week was a bit different, we were thrilled to be able to welcome everyone back and watch the kiddos take pride in showing off their space. Next week we look forward to learning about how we can grow light by doing kind acts that benefit others.